Not happy with the lighting around your home? We hear you. In addition to painting, furniture, and overall decor, lighting has a huge impact on the feel of a specific room. If your lighting arrangements are not making you happy anymore and the thing is time for a change, then today we'll be telling you about some of the best, recessed lighting to buy for your home.
Propper lighting can have a huge impact on the mood around your home, besides illuminating a specific area, you'll be surprised at how much adding an extra lamp can alter the mood of a room. There are too many advantages of having the lighting recessed, and we're not only talking about the cool aesthetic part. That said, there are different things to consider since lighting comes in different finishes and sizes.
Adding some light, no matter how simple can really provide a different sense to your spaces at home. If you have no idea where to start, doing a little research is always a good idea. So before making any investments, you'll have to consider different factors. Though it may sound a little intimidating at first, you could end up with surprising results. Find below the ten best, recessed lighting options you will absolutely love.
Best Recessed Lighting FAQs
What is recessed lighting?
Recessed lighting is easily one of the most practical and functional additions you can make to your home. Recessed lighting, often referred to as downlighting or can lighting, is designed to sit flush with your surface (usually a ceiling). These versatile lights work in practically any room. LED recessed lighting is the most common form of architectural lighting found today, and one of the fastest ways to update an existing space with minimal effort.
Why do you need recessed lighting?
Quality LED recessed lighting will not only give your space a clean, modern, and attractive look, it can be used to highlight special building features, illuminate decorative objects and artwork, or set moods with the help of a dimmer.
Aside from being aesthetically pleasing, LED recessed fixtures are energy efficient and last considerably longer than traditional bulbs.
Recessed lighting can achieve a range of lighting effects in both indoor and outdoor applications. Recessed downlights are the best choice for rooms with limited ceiling space to work with, or where a large fixture would be obtrusive.
Where to use recessed lighting?
In kitchens, recessed downlights can provide great task lighting and create useful ambient light when used in combination with other fixtures like pendants and under cabinets.
The slim dimensions of recessed fixtures make them ideal for hallways and corridors when paired with existing sconces or step lights.
In the dining room, recessed lighting can complement a standout chandelier or pendant and add a mood-enhancing feel. Gimbals let you manipulate the light beam to provide special accents to artwork or photos.
In the bathroom, recessed lighting that is approved for wet and damp locations can install above showers and bathtubs.
For outside, outdoor-rated downlight fixtures illuminate porches, patios, soffits, and other spaces like gazebos and kitchens.
What is the difference between can lights and recessed lights?
Recessed lights, also known as can lights, are described as metal light housings installed in the ceiling for a sleek look that gives you back your ceiling.
How far apart should 6 recessed lights be placed?
Generally speaking, recessed lights that are four inches in size should be placed four feet apart. Six-inch lights should be placed six feet apart. In other words, the diameter of the lights equals the space between them.
What is the brightest LED recessed lighting?
Bioluz LED 18W recessed LED lights are bright – 1,200 lumens (120W Replacement) are 2700 Kevin color temperature and have a wide beam which provides soft, ambient light. They're perfect for general indoor lighting in your office, study, living room, kitchen, dining room, display case, under cabinets, etc.
What is the benefit of Canless recessed lighting?
New construction canless recessed lighting is appropriate for use before the drywall for the ceiling is installed. Without the drywall, it allows you to secure your lighting directly to the ceiling joist. You have more room to work with during installation while planning your light placements.
How long do LED recessed lights Last?
LED lighting has a much longer lifespan than fluorescent or incandescent bulbs. Many LED lights are rated to last 50,000 hours or more. That translates into roughly 5 and a half years if you had the lights running 24 hours a day.
How to choose recessed lighting?
Trim Type
Recessed light trims refer to the part of the fixture that is visible from the outside. There are a variety of different trims available.
Baffle: The interior of a baffle-trimmed can features circular ribbing that reduces glare and is a standard feature on many can-type recessed lights.
Reflective: Reflector trim is well-suited to over-counter task lighting where extra brightness is desirable.
Open: Recessed lights with open trim are designed for use with special bulbs that widen at the bottom to offer a flush look between the rim of the can and the bulb.
Eyeball: This type of recessed light comes with an adjustable inner ring that allows the user to direct the light in a specific direction.
Pinhole: Recessed lights with pinhole trim feature a small opening that creates a spotlight effect directly below the light. Pinholes are often used to accent artwork or other focal points.
Wall–wash: Used for accenting an area of a wall or a specific item, such as a painting.
Shower: This type of trim is a necessity for installation in high moisture areas, such as over a shower stall.
Recessed Lighting Size
There is a range of recessed light sizes. To determine the size, measure the diameter of the cut-out opening in inches, not including the trim.
Recessed Lighting Color and Temperature
Most recessed lighting fixtures come in three different color temperatures:
Soft: comfortable light with a warm glow
Bright: refreshing light with a cool glow
Daylight: designed to mimic natural light
Brightness and Wattage
Today's LED light bulbs use less energy than the incandescent bulbs of yesterday. However, many shoppers still associate a light's brightness with incandescent bulb wattage, so in addition to listing the actual watts of an LED bulb, you'll often find a comparison to an incandescent bulb as well.
Best Recessed Lighting
This innovative fixture offers three unique features than any light on the market. First, the canless, ultra-slim design is the wave of the future; no need for cans or joists; easily installs into low clearance or sloped ceilings.
Second, prior to installation, choose between (5) color temperatures of light output for your space; Warm White, Soft White, Cool White, Bright White, or Daylight and you can change your mind anytime.
And third, the Night Light feature glows a soft Amber hue around the trim ideal for end of evening activities, hallways, baby's room, or movie night. Suggested applications such as kitchen, family room, living room, entryway, hallway, bathroom/shower, bedroom, basement, office, retail shops, theatres, lobby/reception areas and so much more.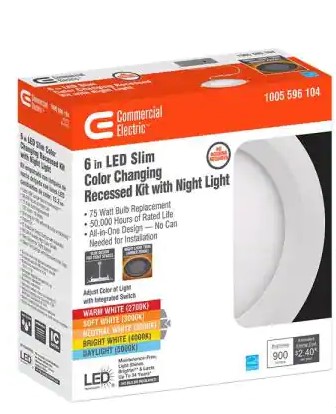 Features:
Wide Application
Dimmable
Ultra-Slim
From sunrise to sunset, Commercial Electric has you covered with smart recessed lights. Simply install it as you would any other recessed light, pair it with the Hubspace App and you're ready to go.
Create the perfect atmosphere for your next party. Make sure your lights come on when you arrive home. Create different moods for different times of the day or simply make sure your lights come on and turn off at the same time every day to conserve energy.
The choice is yours and the options are plentiful. Perfectly hands-free, control your recessed light with the sound of your voice using your Google Assistant, Amazon Alexa, or Siri.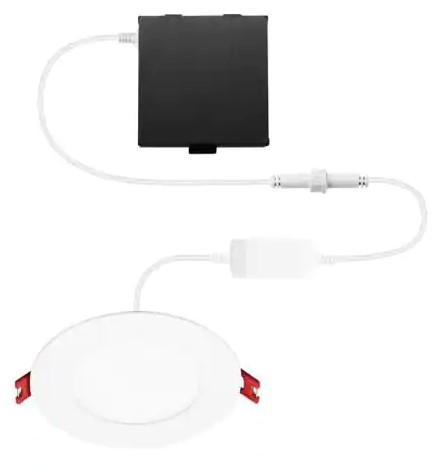 Features:
Voice-Control
Easy Setup
Ultra-Slim
Constructed of versatile aluminum, this kit can withstand the outdoor elements and will last for years to come.
Patented PUSH-N-CLICK clips which are fully adjustable and extra wide to grip uneven surfaces and provide for simple tool-free installation.
The actual hole size is 3.88-inches. The full trim size is 4.9-inches. Offers robust construction with galvanized steel, a large accessible electrical box with removable side panels, and tempered steel clips.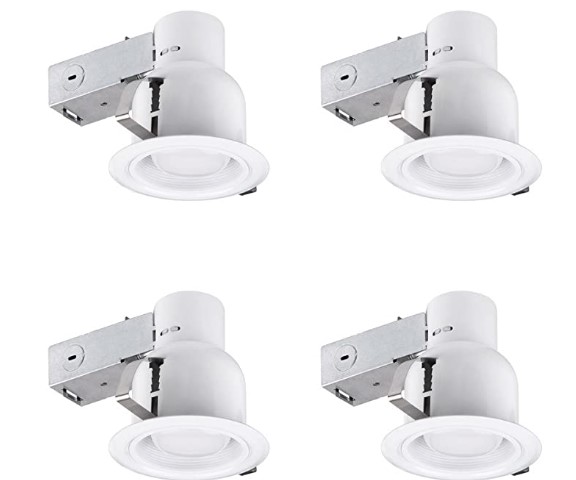 Features:
Indoor
Corded Electric
Metal
The HALO 70PS is a white trim with an Albalite glass lens. This recessed light trim is a wet location listed for use in showers.
The polymer trim ring is non-conductive and non-corrosive for use in wet locations. The unit uses torsion spring retention to pull the trim tight to the ceiling.
A clean and simple trim for Halo's H7T and H7RT fixtures. It's wet-location listed, and the polymer trim is non-conductive and non-corrosive. With its "Air-Tite" construction, it will probably pay for itself in saved heating costs, too.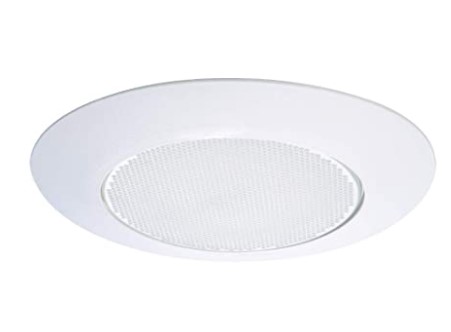 Features:
Replace the 35W halogen bulb with a 3W dimmable LED. Save over 85% energy on electricity of lighting.
Made of aviation aluminum and ABS plastic, make fast heat dissipation becomes possible while being light and solid.
Downlight has smooth dimming capabilities with modern LED dimmers. CRI80+ provides near-sunlight quality light for true color rendering and consistency inside your home, showing natural color more vibrantly.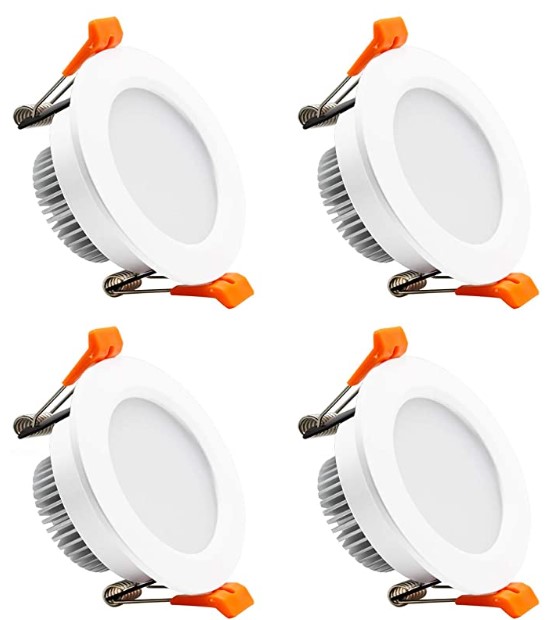 Features:
Dimmable
Aluminum
Recessed
This 5-inch or 6-inch dimmable LED retrofit downlight fixture is the perfect replacement for your ceiling gimbal lights.
With a rotatable eyeball that also is directional, you are able to focus the light in any direction you need. This warm white (2700K) fixture is a 75-watt equivalent but only uses 11 watts of energy while outputting 950 lumens of light.
With the E26 connection, you can screw right into the base of your standard 6-inch housing can, or with the E26 Adapter with the orange plug you can plug right into an LED can. Use this adjustable recessed ceiling fixture with a simple retrofit installation to enhance the lighting in your home.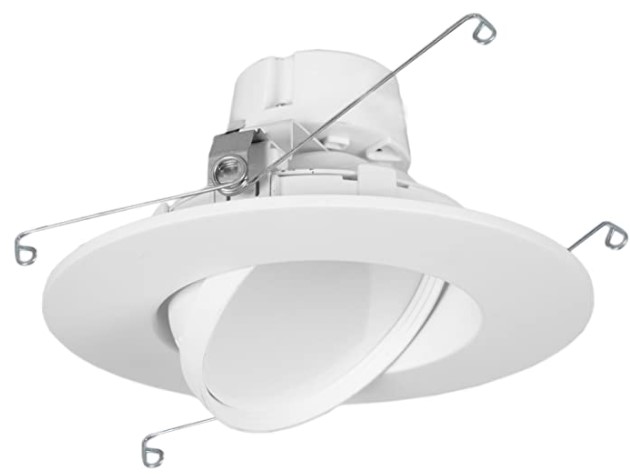 Features:
Dimmable
Ceiling Mount
Warm White
Retrofit LEDs are replacement lights for recessed cans so you can keep your existing housing in place with no need to rewire the whole ceiling when you switch to LEDs.
This retrofit includes a TP24 connector for power and an E26 adapter for cans that accept E26 bulbs.
Baffle and smooth refer to the trim style. Smooth trim creates a streamlined look and maximizes beam spread due to its reflective nature. Baffle trim features uniformed grooves close to the light source to minimize glare and create soft light.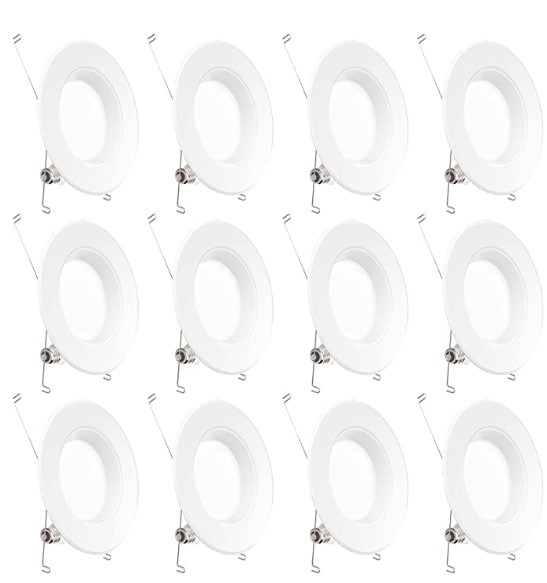 Features:
Aluminum, Polycarbonate
Corded-Electric
Classic
Compatible with Alexa and Google Assistant. A simple dialogue can turn your LED Recessed Lighting on or off and adjust more colors. Release your hands.
Luminary 6-inch smart wifi recessed lights support warm white and cool white from 2700K to 6500K. The smart recessed lighting can change the color with the beat of the music or the sound of the game.
Provide 16 million colors.1%-100% brightness is adjustable. 8 scene modes; also, you can also DIY the scene modes you want.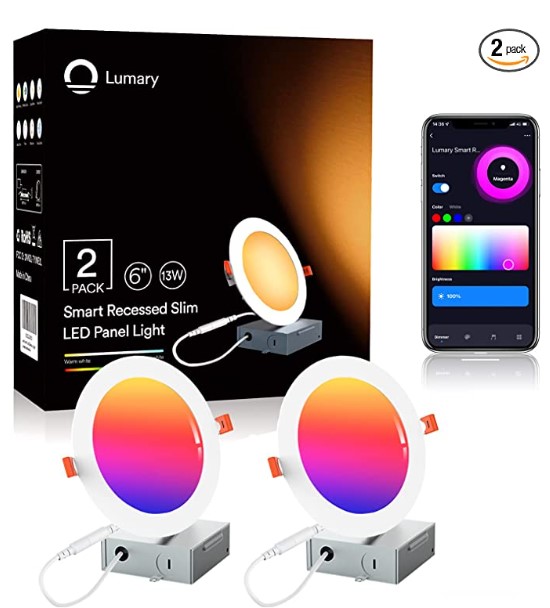 Features:
Indoor
Close to Ceiling
Metal
This low profile LED recessed ceiling light with high brightness only requires 2 inches of clearance, making it the perfect solution for a narrow ceiling that doesn't fit a housing can
This Energy Star certified slim light with an anti-glare and scratch-resistant frosted LED lens only consumes 10-watts of power while providing you 700lm of brightness, equal to an 80-watt incandescent lamp.
The hassle-free installation can be done in seconds. Simply connect the provided j-box to the light using the male/female cables and use the spring clip to mount it on the ceiling.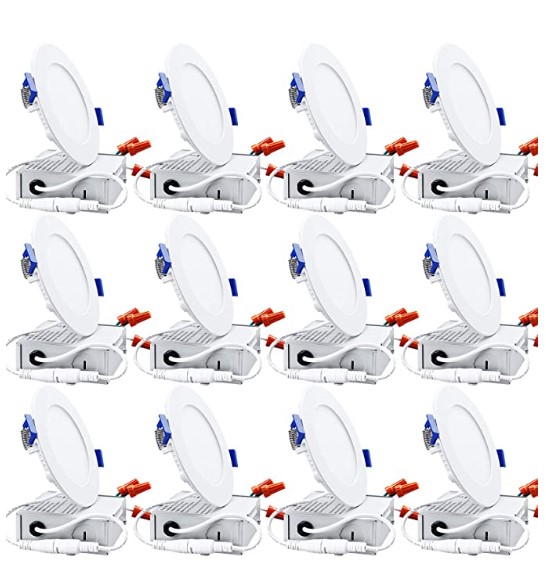 Features:
Indoor
Aluminum, Polycarbonate
Recessed
Amico's canless LED recessed light is IC rated, which is permitted to be in contact with insulations in ceilings, meaning the junction box is thermally protected. It only requires as small as 2 inches of ceiling spaces and fits various ceilings and joists. It won't cause a fire in the roof or overhead joist space.
The 6inch slim downlights use the world's leading LED chips with higher lumens and lower power. 1050LM consumes 12 Watts, which equals a 110W halogen lamp, saving you up to 90% in energy costs.
No need to worry about what color temperature to buy, eliminates the hassle of returning or exchanging products due to inappropriate color temperature.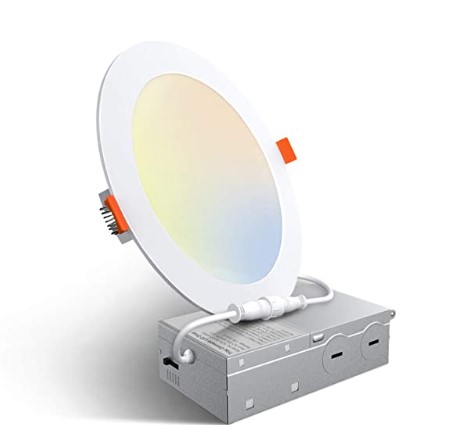 Features:
Metal
Modern
Corded-Electric