If you work from home, you know how tricky it is to stay focused, if you easily get distracted and have a hard time making it through a decent schedule, you may want to rethink your lighting choices! That's right, proper light can have a positive or negative impact on your mood and therefore it can also affect your work. As a result, today we bring you some of the best lighting for offices to boos your productivity.
You have probably experienced how much adding an extra lamp can alter the feel of a room, that's why getting the right lighting for your home office is absolutely key to making it a space where you feel comfortable but one that can also help you stay awake and alert to do your job in a nice, and relaxed environment.
Your office space is something you really want to nail, after spending months thinking about the furniture, paint, and overall design; lighting is another important consideration. With a ton of light fixtures, it may seem like an overwhelming task to have to choose the best lighting for your home office. So we are here to point you in the right direction and share with you the ten best lighting for offices that will boost your productivity in your home.
Best Lighting for Offices FAQs
Why is the right office lighting important?
Choosing the correct forms of lighting can not only increase our comfort but may also help prevent eye strain and improve our concentration, thereby making it slightly easier to work from home, a place often full of distractions. Today's smart, connected lighting solutions go beyond the harsh, yellow-white light that was the only option on the table and are certainly worth exploring to improve your office, and perhaps, the rest of your home, too.
what color lights are better for employee productivity?
In general, warmer yellow or orange lights tend to be better for relaxing, whereas cooler blue and white lights are good for working, waking up, and concentrating. If possible, the lighting temperature and color should vary based on the time of day.
How bright should office lights be?
Recommended light levels in offices are 300 – 500 lumens. In spaces where there are no other sources of bright light, lighting at around 300 lumens is best. When the environment is already bright or there are large contrasts in lighting, brighter lights (400-500 lumens) are more appropriate.
Are LED lights good for the office?
LED lighting products are known for performance, energy efficiency, and long-term savings. The benefits of LED lighting in offices or workplaces however are not limited to that. It has been proven that installing high-quality LED lights creates a healthy work environment and increases employee productivity.
Is soft white or daylight better for the office?
Soft white has more warm tones and is often in the yellow color range. Daylight, however, is far cooler and has more white and even blueish tones to it. Soft white is ideal for residential environments and has more earthy tones. Daylight is ideal for commercial environments and has more blueish tints.
Tips for choosing office lighting:
Examine your Workspace
Make note of where the natural light comes from and if there is sufficient natural light that you can dim (or even turn off) artificial lighting during the brightest part of the day.
Determine the type of lighting you need
Direct lighting: Think desk lamp is best as a supplement for indirect lighting at individual workstations.
Indirect lighting: Most often used in office settings, projects illumination up towards the ceiling where it disperses over the entire area in a more natural manner.
Prevent Flicker
Too much flicker in your office lighting, even flicker that's undetectable to the naked eye, is annoying and, with prolonged exposure, can cause eye strain, headaches, and other health problems.
Natural Light
Expose yourself to as much natural light as you can. According to research, natural light in the office reported an 84 percent drop in eye strain, headaches, and blurred vision.
In general, it's best to have natural light in front of or next to work surfaces and computer screens to avoid glare and maximize your outside views. You can also position your workstation facing north or south so that the sunlight doesn't throw a shadow at any point in the day.
Color and Temperature
The color and temperature of office lighting should vary based on the function of the space. In general, warmer yellow or orange lights tend to be better for relaxing, whereas cooler blue and white lights are good for working, waking up, and concentrating. If possible, the lighting temperature and color should vary based on the time of day.
Fluorescent versus LED Office Lights
Although it's unlikely that fluorescent lights could cause migraines, they may trigger symptoms of migraines in people who are predisposed to them. Because employees often stay at the office past sundown, fluorescent lights can also interfere with sleep patterns by inhibiting the production of melatonin.
LED lights, on the other hand, can usually be dimmed to match the time of day and the season, making them a better choice for the health of employees.
Create Task Lighting
For computer work, paperwork, and other focus-intensive tasks, choose a well-defined light source dedicated to what you're doing. An adjustable or articulated desk lamp can put light exactly where you need it and support a variety of tasks.
Consider Decorative Office Lighting
Most home offices will feature ambient lighting that is diffused throughout the space and task lighting that is focused on specific workstations. Beyond these two functional lighting types, you may want to add decorative and accent lighting to help improve the visual character of your home office.
Best Lighting for Offices
The strong metal clamp supports a desktop up to a 2-inch table and holds the swing arm lamp securely in place. You can freely adjust the angle, position, and light direction according to your personal need.
The LED desk lamp has uniform brightness, no glare, no ghosts, and soft light, it is comfortable for your eyes. Brightness can be adjusted according to your own needs.
Use high-quality LED lamp beads, which better protect your eyes, and let you focus on work.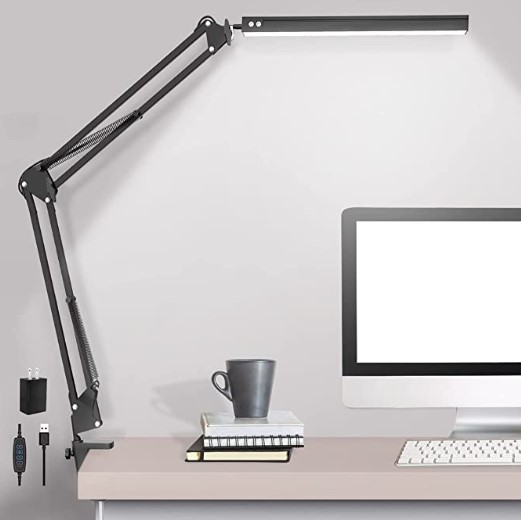 Features:
Modern
Metal
3 Lighting Color
The desk light has multiple brightness levels, easily adjust the brightness by touch. The led desk lamp provides 5 color temperatures like white, cold white, natural light, yellow, canary yellow, and 6 brightness levels, providing ideal light levels for working, studying, reading, and relaxing.
Free to choose any lighting mode you want. These touch table lamps are designed to be soft, stable, and shine a flicker-free light.
The office desk lamp adopts a surface-led light source design that could not strain your eyes, this desk lamp is ideal for reading, and studying for a long time.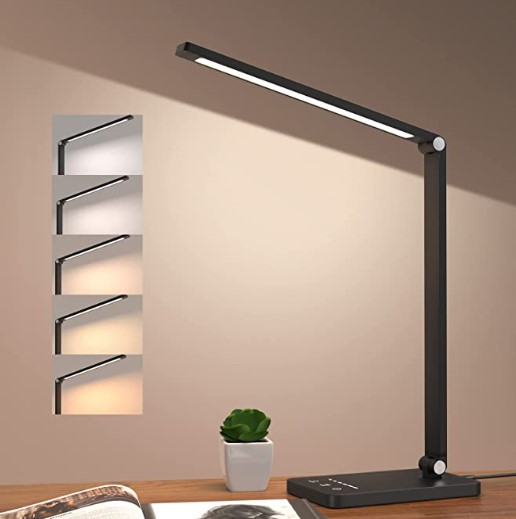 Features:
6 Level Brightness
Auto Timer
Dimmable
It is not only a desk lamp, but also a wireless charger, which provides the light and wireless charging you need when you work, study, and entertain. It is compatible with most Qi wireless charging smartphones, such as iPhone, Samsung, and more smartphones that support Qi wireless charging.
With 20 high-quality LED lamp beads, the light is stable, does not flicker, and does not dizzy, which can effectively relieve eye fatigue and protect your eyes.
It has 3 light modes: warm light (2800-3300K), natural light (4000-5000K), and cold light (5500-6000K) to meet your different needs.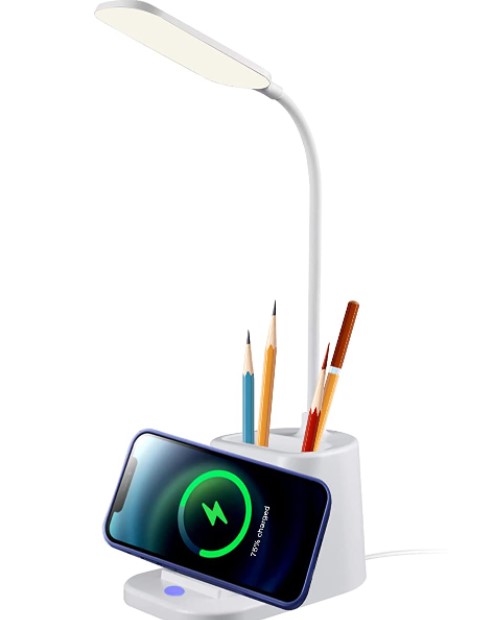 Features:
Modern
Wireless Charger
3 Color Modes
Pen Holder
Phone Stand
Adjustable long arm table lamp, It can adjust any angle flexibly at 360° for multi-angle lighting. With the extended lamp, the overall height can reach 41.7 inches.
Flexible Gooseneck LED Desk Lamp, extensive long easily reach lights up to every corner. Designed with a multi-angle head and a perfect length, allows you to adjust the light angle at any position.
The clip-on reading light has a strong bite and the strong clip comes with protective soft pads, protecting your office life supplies from wear and tear.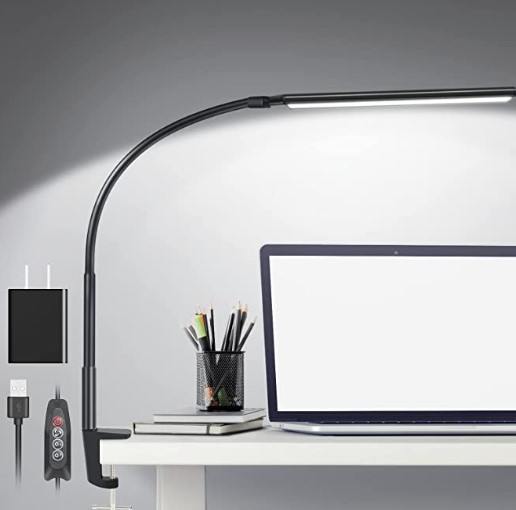 Features:
Silicone Rubber
Anti-blue Light
Eye- Caring
Modern Design
By using the Hue Hub, these Smart Bulbs connect to your favorite smart home devices like Amazon Alexa, Apple HomeKit, or Google Assistant for the ultimate smart home experience.
The Hue Smart button is easy to use and install. Equipped with magnets, tape, and a wall bracket, the button can be placed in multiple locations in multiple ways.
With the Philips Hue App, you can set routines to help you feel energized in the morning, have your lights detect when you arrive home, or turn the smart lights off gradually as you head to bed.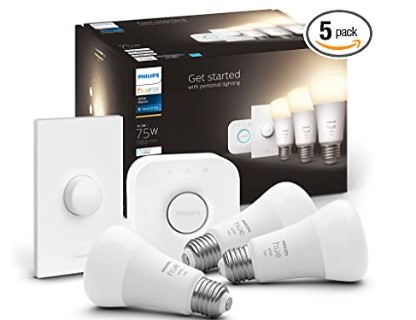 Features:
LED
Dimmable
Outdoor, Indoor
Set any mood with Wyze Bulb's tunable white color temperature. Use warm white (2700k) to relax in the evening and daylight (6500k) to wake up with morning coffee.
9. 5-watt LED bulb (60-watt equivalent) produces up to 800 lumens and can be dimmed using voice control or the Wyze App (do not use with dimmer switches).
Wyze Sense's contact and motion sensors allow you to control your lights based on motion or opening/closing of a door so they're on when you need them and off when you don't.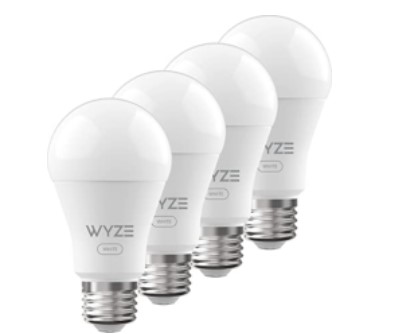 Features:
These happy light therapy lamps deliver safe and natural LED light that our bodies need and are perfect for improving insomnia, jet lag, seasonal blues, and so much more.
This therapy light provides the recommended 10,000 LUX of brightness to help the winter blues, regulate sleep, improve focus, boost energy and make us feel less sad. The light therapy lamp is designed to mimic the colors of daylight.
The lamp's revolutionary, the quick one-touch operation makes it simple to use with 3 levels allowing you to customize the brightness for the best efficacy and comfort.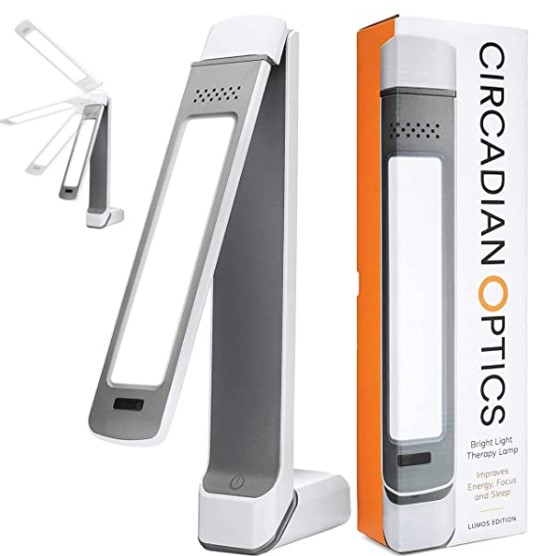 Features:
A feature-packed Desk Light specifically designed to enhance your appearance on Video Calls & Live Broadcasts.
Doubling as a Task Light to boost your next work session, The Edge will brighten up your workspace, maximize your productivity, enhance your mood & help you look great on camera.
Powered via A/C Cable for endless illumination. Mount to any desk or table via a built-in Clamp.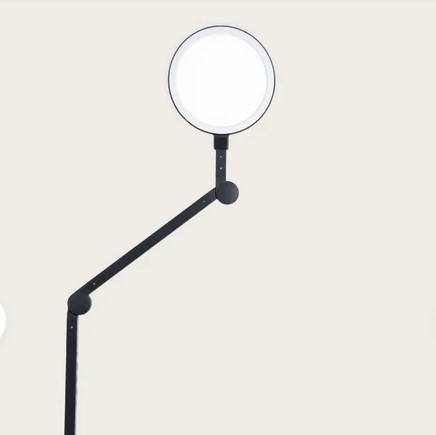 Features:
USB-C Charging Ports
Touch Controls
Edge-Lit Technology
5W cordless light build-in magnet can be attached to the iron product surface. Baseus Led table lamp can be rotated 80 Degrees to meet the different angles need for the light. It can be attached to a mirror, closet, stairs, cabinet as a fill light
Designed to be environment friendly, the under cabinet lighting built-in rechargeable 1800mAh battery-powered, and 1M USB type C Cable included.
Fully charged in 4-5 hours can be used for 4-24 hours.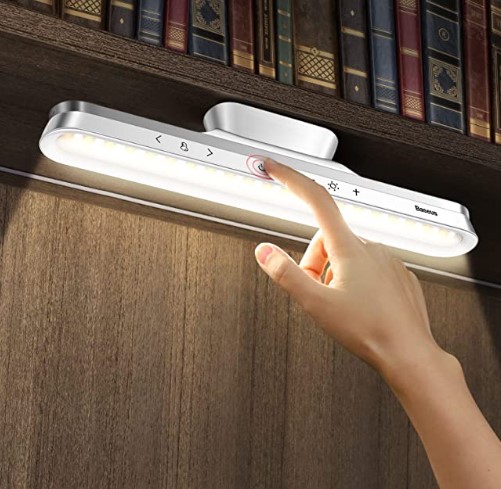 Features:
Rechargeable
Touch Control
Wireless
AKOOS led desk lamp equipped with dual light bars unfolded up to 30 inches, provides ultra-wide lighting area. 160 high-quality led beads could make your workbench super bright.
Ideal for a large workbench, multi-monitor workstation, piano, reading, drawing, living room, studio. Swingarm could meet multi-height needs. Cost-effective desk lamp for working at home.
A White led desk lamp with a round base could decorate your table and make it more pretty. And the c-clamp help to save more space if you don't have much.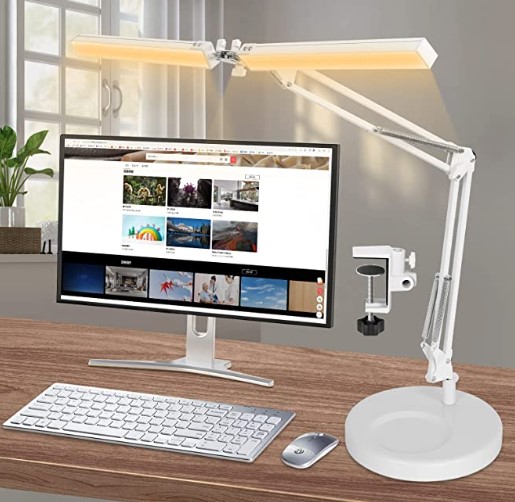 Features:
Dual Head
3 Color Modes
10 Brightness for Workbench