Are you having a hard time with the lighting in your bathroom? We hear you. The correct lighting can have a huge effect on the mood around your home, besides illuminating a specific area, you'll be surprised at how much adding an extra lamp can impact the mood of a room, and that includes your bathroom. As a result, today we'll be telling you about ten bathroom ceiling lighting ideas you will love.
Even though you enter your bathroom every single day and use it at least a few times a day, is likely you won't be thinking much about adding proper light. However if your bathroom has become a preferred spot to shoot your content, the right lighting is absolutely key to showing what it needs to be shown. Not only that, the right lighting in your bathroom is essential to find everything you need to find, after all this is a spot where you can relax.
To identify what kind of lighting your bathroom will 'shine' the most, there are a few things to take under consideration. If you have no idea where to start, doing a little research is always a good idea. So before making any investments, you'll have to consider different factors. Though it may sound like a lot of work at first, you could end up with surprising results. Check out different bathroom ceiling lighting ideas.
Bathroom Ceiling Lighting Ideas FAQs
What kind of lighting do I need for the bathroom ceiling?
Pendant lights and chandelier styles work best in bathrooms with high ceilings for an added sense of luxury. They are best placed as the main feature of your bathroom lighting, so think carefully about where you will put them and how they will work with any other lighting fixtures you have.
What lighting is best for a small bathroom?
To keep a small bathroom feeling open and spacious, refrain from installing any large or decorative ceiling lights. Instead, a flush mount ceiling light is the ideal option.
Where should bathroom overhead lights be placed?
The guideline for spacing recessed lights in a bathroom: divide the ceiling height by two. For example, in a bathroom with a 9-foot ceiling, place the lights 4.5 feet apart. The layout should provide enough light, without overwhelming the space. But, remember rules are meant to be broken.
How can I improve the lighting in my bathroom?
The best way to solve that is with fixtures that mask the actual light source: either up-lights, deeply recessed downlights, or lenses. Dimmers can also be enormously helpful. It's far better to "overlight" a space and provide dimmers for making adjustments than it is to under-light it.
What to keep in mind when selecting bathroom ceiling lighting?
It's a good idea to choose fittings that work with other accessories, colors, and themes in your bathroom.
Consider selecting a light bulb color that complements your current aesthetic or the ambiance you're trying to create.
If you're undecided, some bathroom fixtures can be adjusted by adding a high-quality dimmer switch. Meaning you can switch between the bright light needed for putting on makeup and softer light to put you in a relaxing mood.
Bathroom Ceiling Lighting Ideas
Pendant lighting allows you to play around with various shapes, colors, sizes, and heights to make an impact on any size bathroom.
This 5-pendants integrated LED light has premium bubble glass with a chrome finish, CRI 90+, 30W(180-watt equivalent), and 2250 Lumens. Inside the chandelier hanging light has 4000K LED chips offering a neutral white light.
This pendant light is perfect for dining room, living room, bathroom, kitchen island, corridor, cafe bar, club, restaurant, hallways, and more.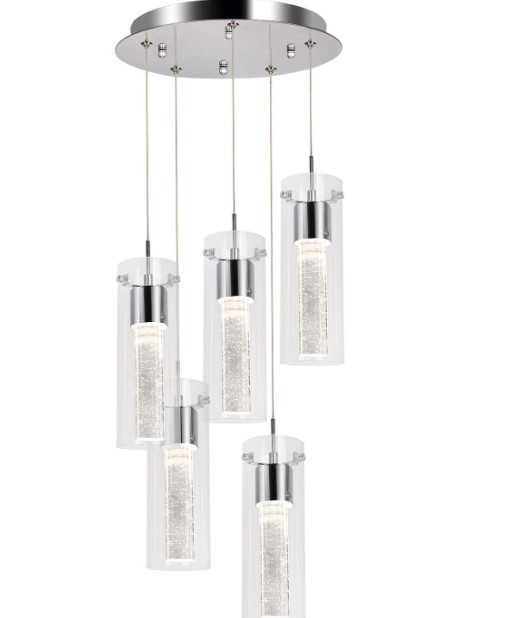 Features:
Glass, Metal
Modern
Dimmable
f your bathroom is especially dim, try adding vanity lights to the side of the mirror. The bronze vanity light fixture featured steel construction that provides long-term durability, you can update the look of the fixture at any time simply by changing the bulb.
This 3-light vanity fixture with thick clear glass shades in a modern and sleek brushed nickel finish is perfect in bathrooms, kitchens, or bedrooms.
Fixtures can be mounted with glass globes facing up or down for more design flexibility. Install the light with glass shades up or down to light up every corner of your room. The practical design fits many spaces.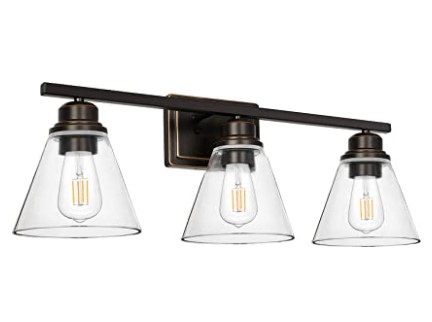 Features:
3-Light Bathroom Light
Glass, Metal
Modern
Corded Electric
You can also illuminate the mirror with task lighting by adding two decorative wall lights on the left and right sides of the mirror.
Chrome-finished alloys and crystals make for a simple and gorgeous wall sconce, you don't have to worry about the lamp base corroding and rusting after long-term use, and the smooth crystal surface will not leave dust. It will always be beautiful.
Suitable for bedroom, dining room, living room, study room, bathroom, hallway, etc. It also can be used in restaurants and hotels.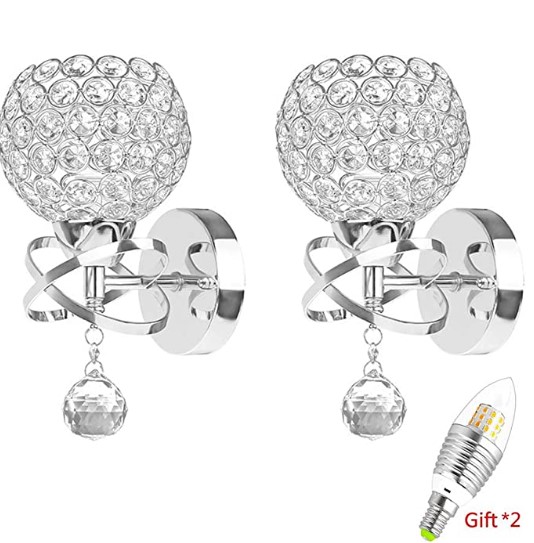 Features:
Plastic, Metal, Crystal
No Rust
Easy to Install
Ambient lighting around your bath and in alcoves can help create a tranquil, luxurious spa-like space in your home. This will often enhance the overall bathroom design. Relaxing ambient lighting is perfect for unwinding at the end of the day.
Composed of high-quality crystal glass lampshade with, a modern and minimalist design the bathroom vanity light fixtures are highly-strengthened, not easy to break. Besides, this lamp is characterized by being almost completely covered with shiny rectangular royal cut transparent crystals creating a warm and romantic atmosphere for your home.
Great ideas for bathroom, cabinet, kitchen, decoration, or simply wall lighting. Especially suitable for makeup and dressing room.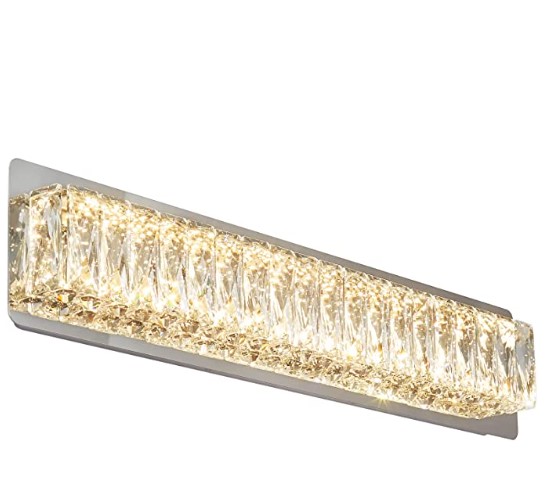 Features:
Premium Crystal
LED
Wide Applications
The best bathroom lighting for small bathrooms obviously won't take up a lot of space. Cabinets with integral lighting can help any bathroom appear bigger, regardless of the square foot of the space.
Constructed from high-quality anodized aluminum with a durable nonrusting and chip-free finish. Adjustable ¼ inch tempered glass shelves offer additional bathroom storage. They will easily accommodate your essential toiletries and bath items such as soaps, shampoos, and toothpaste, in addition to your makeup.
Mirrored front door, back door, and mirrored rare wall will add beauty and elegance to any bathroom or vanity decor. Mirrored sides provide superior visibility. Frameless pencil edge. Grooved all around for clean and easy access. Soft closing hinges at 95 degrees opening angle.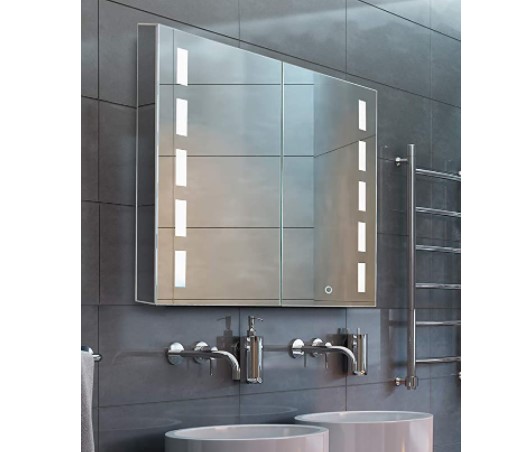 Features:
Modern
Stainless Steel, Aluminum, Glass
Heavy-duty
If you have a large bathroom, overhead lights can help bridge the gap between your floors and high ceilings.
Sparkling K9 crystals which have a glass touch and feel make it uneasy to break. Petit Crystal features a densely woven crystal surface that diffuses soft light on your interior; panels use thickened stainless steel and surface gloss such as mirrors, anti-oxidation, and no rust.
Come with a convenient installation pack to make it very easy to install. This crystal ceiling light suits for hallway, entryway, closet room, bedroom, kids room, kitchen, aisle, hotel, pass-way, bathroom, and more.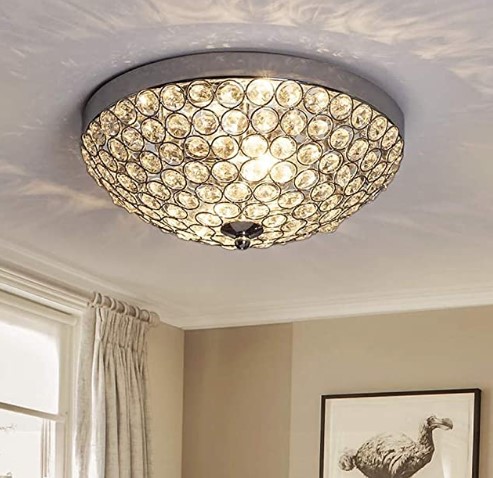 Features:
Easy to Install
High Quality
No Rust
If you lack natural light and need a more substantial light source, a larger fixture on the ceiling can help link the entire space together and provide adequate light as well. In addition, a large flush mount ceiling light or pendant can provide a beautiful design focal point in addition to a lot of light.
This luxurious modern chandelier features an intricate crystal encrusted drum shade, three rows of high-quality cascading hanging glass crystals, and a durable chrome finish.
The 4-Light beaded crystal chandelier design ensures that a subtle glow of light is emitted in the room that adds drama and mood lighting.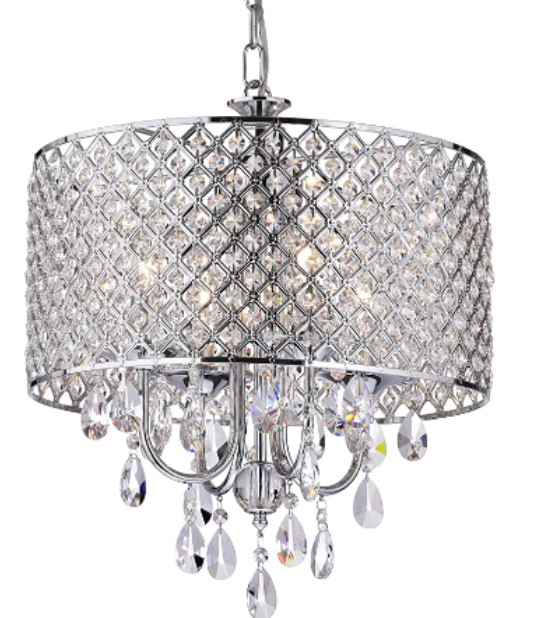 Features:
Glass, Metal, Crystal
Corded-Electric
Indoor
Flushmounts come in a huge variety of shapes and styles so there's an option for every decorating scheme. You can upgrade your current flush mount with a sleek LED version. These options are the flattest possible design to fit right against even the lowest ceiling.
The modern led ceiling light is designed with eye protection, no flicker, no infrared or ultraviolet radiation, and protects your eyes from harsh and glaring lights.
Designed in three layers, more stereoscopic than other flat ceiling lights; a modern shape with leaf-like circle rings, just like a flower placed on your ceiling; ideal for indoor use.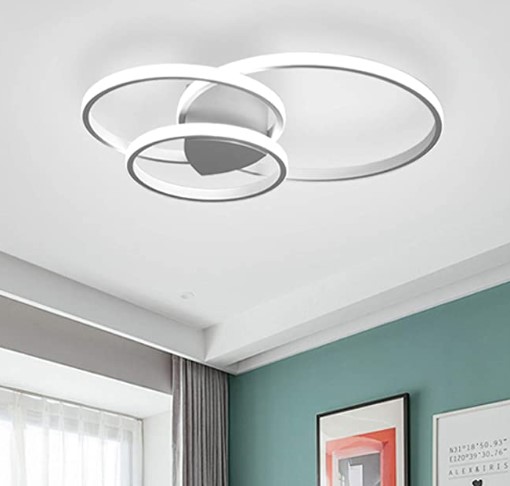 Features:
Durable
Eye-Protection
3 Layers
Create a spa-like feel with tiny puck lights, which offer plenty of illumination when used in multiples.
There are 4 dimmable modes and timing functions, you can freely adjust according to your lighting needs, if you want to save energy, please keep using 10% or 40% of the brightness. It lasts around 100 hours at 10% brightness and around 8 hours at 100% brightness.
LED Cabinet light has 4000K natural white light and 40 lumens efficacy. Perfect suitable for your kitchen, Closet, Cabinet, Bedroom, Bookcase, Pantry, Hallway, Stair, Step, Utility Room, Basement, etc.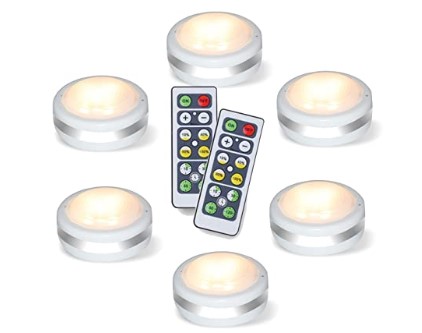 Features:
Dimmable
Remote Control
Battery Powered
Wet-rated flush mounts are great over showers and tubs where there's good chance water will splash the fixture. They also add a layer of safety because there's nothing to hang down and expose you to electrical currents.
No hassle installation with these flush mount LED slim square ceiling light fixtures which can be set up in a few easy steps. You can control the brightness of your closet and kitchen lighting with the ability to reduce from 100-10% lighting output.
Reduce your electricity usage with a slim LED surface mount ceiling light that only uses 10W of power, effectively cutting the cost of your monthly electricity bill. A flawless replacement to your standard indoor and outdoor ceiling light fixture.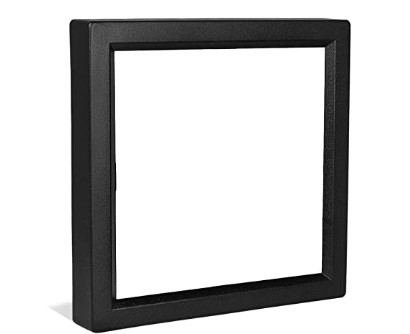 Features:
Modern
Dimmable
Wet-Rated
Recessed