With summer around the corner, it may be time to warm up your home's lighting. If you feel the mood around your home hasn't been the best, you'll be surprised at how much adding an extra table lamp or switching lightbulbs can alter the mood of a room. If you want to make a real difference you are in the right place as we'll be sharing several ambient lighting ideas to spruce up your home.
The right lighting can contribute to your home's aesthetic and provide 'illuminating' results. When you think about finding the right lights function and looks are equally important. You must always strive for a combination of good performance and style. However, finding the right lights for your specific needs depends on a number of factors that you may have never considered in the past.
As much as your personal preference comes into the game and of course budget, you also need to keep in mind things like dimmer switches and that sort of thing. So before making any investments, doing a bit of research is always a good idea. While lighting can provide a great way for you to express your personal finesse, with numerous models available it may all seem a little confusing. So we are here to help, check out below some of the best ambient lighting ideas to make your home come alive.
Ambient Lighting Ideas FAQs
Is general and ambient lighting the same?
Also called general lighting, ambient lighting provides overall illumination for a room, and is intended to create a uniform light level throughout a space, independent of any special lighting that may be needed in targeted areas of a room.
Is sunlight an ambient light?
Simply put, while the term "ambient light" should always refer to any available light, be it sunlight, moonlight, or "man-made" light fixtures, etc, … some folks do consider the term "natural light" to refer only to sunlight.
How do you create ambient lighting?
Creating ambient lighting (also called mood lighting) involves using color, temperature, and brightness to create a comfortable and even level of light throughout a space. The main sources of ambient lighting are usually ceiling lights, wall-mounted fixtures, or recessed spotlights.
What are the benefits of ambient lighting?
Aside from the basic lighting functionality, ambient lighting improves the sense of warmth and depth of a room or space. It works to provide a comfortable level of illumination without too much glare. This allows you to navigate an entire room safely too.
Ambient light is typically lowered in bedrooms, restaurants, and bars to provide warmth and depth to a place and encourage customers to relax. Furthermore, if people are at ease, they are more inclined to remain longer and so spend more money.
Various studies indicate that the lighting conditions of a room may have a significant impact on people's physiological and psychological behavior. Proper ambient lighting (cooler light) offers pleasant illumination levels without glares, which assists in the creation of a productive atmosphere.
What is the difference between ambient lighting and task lighting?
There is a difference between ambient and task lighting, they both serve a purpose. Task lighting provides focus light so you can see better performance of a certain task. While ambient fixtures offer general lighting for your home, distribute light evenly as well as help create a mood.
What are the types of ambient lighting?
Wall scones: These are electric wall lamps and are of two types. If you go to the shop, you will find out direct-wire and plug-in ones. You can have the installation onto your wall in any of your chosen areas.
Lamps: You can use table lamps as a good source of ambient lighting. Not only that, but floor lamps can also be a good choice if you are up for lighting specific areas to create a comfortable environment.
Chandeliers: These ambient lightings work best for taller ceilings. This looks stylish and classy and will upgrade the beauty of your overall room for sure. This lighting suits best with large dining rooms or over your bathroom tub.
Pendants: Like the chandelier, pendants are a trendy choice for people who have the desire to design their room in a very stylish way. Like painting the walls and adding the latest technologies, pendants work as a good fit to upgrade the beauty of your place.
Recessed: This lighting is very good in providing a soothing atmosphere in the room, and along with that, your room will look big due to its beautiful installation.
Track: This ambient lighting looks like a track consisting of multiple lights connected in a single line installed in the ceiling. Not only does it looks different than regular ambient lighting, but it is also very eye-pleasing due to its beautiful illumination.
How to add ambient lighting to your home?
Choose a Location
You'll need to first select where you'll place your lights by identifying the important locations you wish to illuminate. You'll want your ambient light to be well distributed and balanced.
Color Temperature
Choosing the most suitable color temperature is critical for mood lighting. To create a welcome and soothing ambiance, warm white LED bulbs with a comfortable yellow glow are a safe choice.
The temperature of a light is measured in Kelvins. LEDs with color temperatures ranging from 2000k (flame white) to 3000k for your ambient lighting are ideal for creating a cozy environment around dining and living spaces while yet providing adequate illumination for individuals to conduct basic chores.
Color Rendering Index
Ambient lighting must be more than simply aesthetically pleasing; it must also be functional. Color rendering index (CRI) refers to a light's ability to accurately display the colors of diverse objects when compared to a natural light source (sunlight). It is assessed on a scale of 0–100, with 0 being a low CRI and 100 representing the highest.
Dimming
Because the tone in your area during the day is likely to be very different from the mood in the evening, you'll want dimmable lighting to reflect that. Dimmable LED lights are ideal for this since they can be kept bright throughout the day for a more lively atmosphere, but lowered at night to create a more comfortable, calm atmosphere.
Accent Lighting
After you've placed your ambient lighting, you can add some personality to your area by installing accent lighting. There are several methods to do this, including utilizing table lights or LED strips to emphasize essential elements of the space.
Ambient Lighting Ideas
The lampshade is made of 90% Tyvek Dupont and 10% Fabric. Because of the special material, When you turn on the lamp, the lampshade shows a beautiful texture. The lampshade with high intensity is easy to clean.
If you're simply in the mood for a TV show or movie and want to add some soft ambiance to your living room. this lamp could be the perfect one.
Simple and elegant, this chiphy standing lamp quietly complements your room with its special appearance.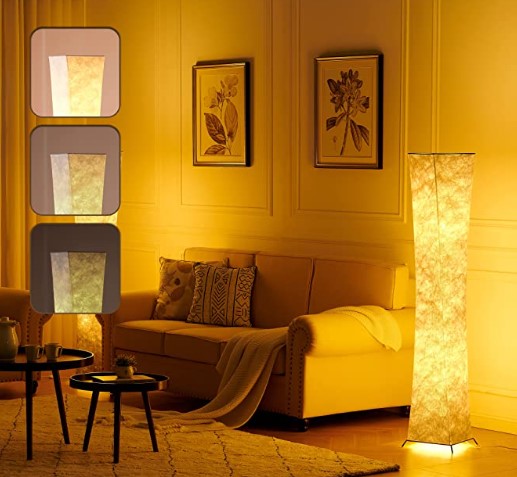 Features:
Adjustable Brightness
White Fabric Shade
Contemporary
This Nightstand lamp comes with an ON/OFF switch control, easy to install and use. The elegant sleek look of this table lamp elevates the aesthetic of your home, an open-top cloth shade of beige linen hovers over a petite black base of solid wood.
The small desk Lamp creates a nice and comforting feeling in the house when spending time with your family as the linen fabric shade softens the light.
The size and the design make this accent lamp a splendid accouterment for guest cottages and professional offices alike.
Features:
Minimalist
Wood, Metal, Fabric
Comfortable Glow
This Cherry Blossom Bonsai Tree is 18" in height, and is equipped with 48 LED lights; Warm White LEDs provide a warm glow.
With a 24V adapter; built-in LED lights are topped with rubber-constructed cherry blossoms giving off a soft, warm aura. eco-friendly,energy-saving, and safe, so you can use it wherever you want.
Satisfy DIY needs with the adjustable branches. You can bend the branches and the tree into any shape or more natural tree shape as you like. Build up exclusive tree light for yourself.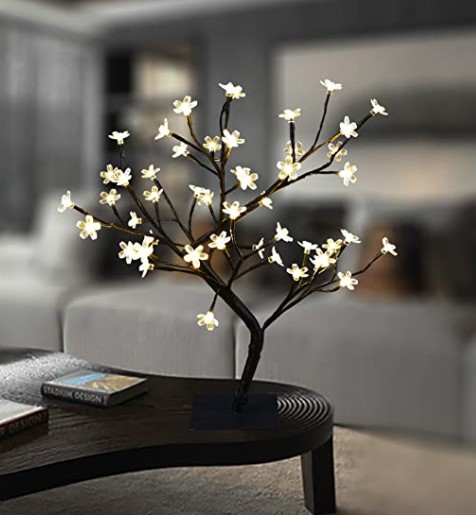 Features:
Warm White Lights
Metal Base
Adjustable
Entertainment Lighting Experience with 10 Music Sync Modes and 46 Colors Changing Modes will enhance your game or watching TV experience.
Light reacts to the beat of your music for an immersive sound experience. Choose from 4 modes (Vivid, Rhythm, Strike, Vibrate), all greatly enhancing your movies or gaming worlds.
Connect with Smart Life APP and start discovering the endless possibilities, customizable DIY colors, and fascinating effects, plus zestful music and scene modes.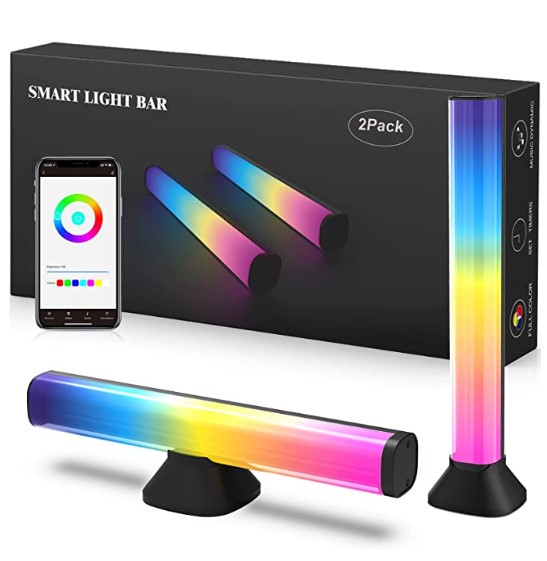 Features:
10 Music Sync Modes
LED Play Light Bars
Easy to Control
There are 16 million adjustable colors and almost 100 LED cells in the lamp. With a 52-keys radio frequency remote control, it can be set up 6 DIY colors, 4 kinds of music modes, and 4 levels of brightness, signals will not be blocked by obstacles.
Made of aluminum alloy.Sturdy and durable. The LED pipe is made of silicone(20W LED cells inside). Different from other RGB Lamps which are made of low-quality metals and PVC pipes.
OKOOI RGB floor light will absolutely provide you with a magic atmosphere in every place such as the living room, bedroom, gaming room, office, and so on.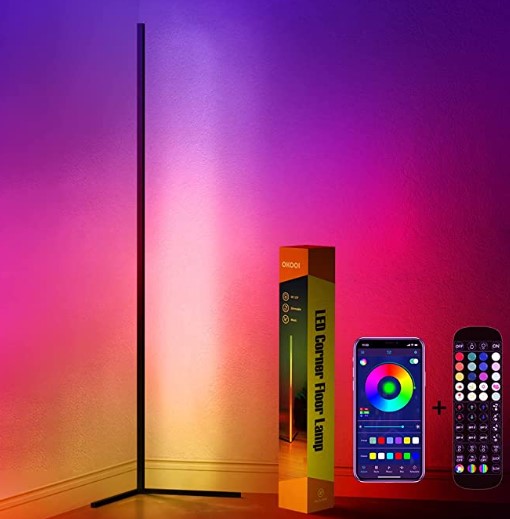 Features:
Aluminum, Metal
Color Changing
Floor Lamp
New version smart led light bars adopt innovative RGBIC technology to display rainbow-like light effects created from 16 million colors. providing you with an unforgettable experience of the light show.
Works with Alexa and Google Assistant via Wi-Fi, you can easily control the RGBIC light bars: power on/off, timer, change colors, adjust brightness or speed through simple voice or remote controller commands to create an ideal movie or gaming experience.
RGB flow light bar built-in high sensitivity microphone. It can react and move to the beat of your music, movie, and gaming audio for an immersive sound and light experience like no other.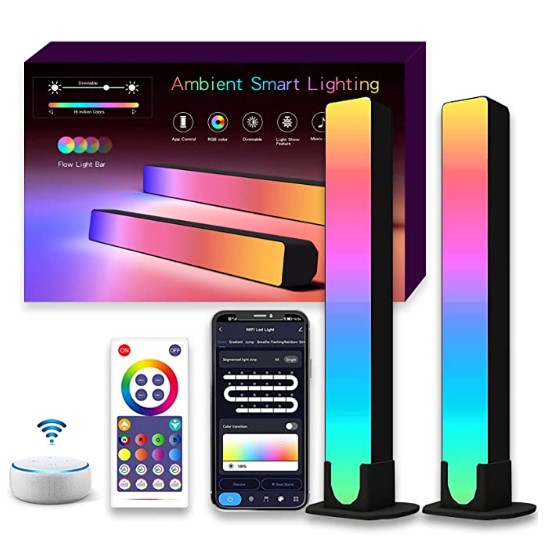 Features:
Indoor
Corded Electric
Bluetooth, Wi-Fi Connectivity
Static and dynamic lighting effects are suitable for any indoor occasion. Jazz up your romantic dinners or casual get-togethers. It is also smart enough to remember your last setting after being turned off.
Up to 30 meters of signal remote can control RGB Color, light effects, brightness, and speed. Pick and pause on your favorite color to suit your mood and atmosphere.
Unlike other RGB corner table lamps that are made out of plastic or PVC pipes, our lamp metal frame is made with premium metal alloys and its legs are made out of iron, making it more stable.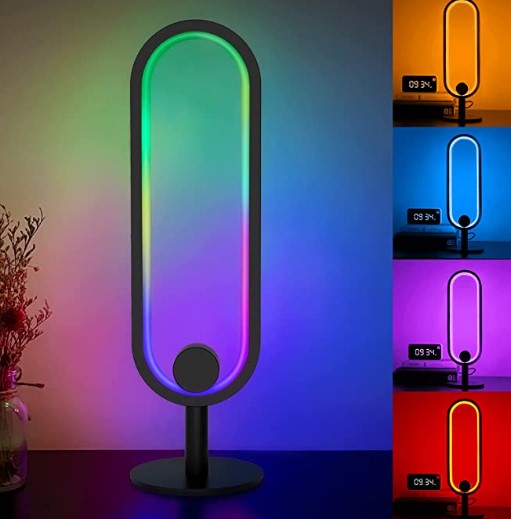 Features:
Dimmable
Color Changing
Aluminum, Iron
Download the exclusive app through the QR code in the manual for remote control, or use the remote control attached to the product to select the color and model you want. Meet most of your scene needs.
In order to meet the needs of most scenarios, our products can provide flexible options: choose vertical or horizontal placement.
You can choose to place it vertically next to a TV or computer to increase your entertainment experience or place it horizontally on a storage shelf as an ambient light in the room.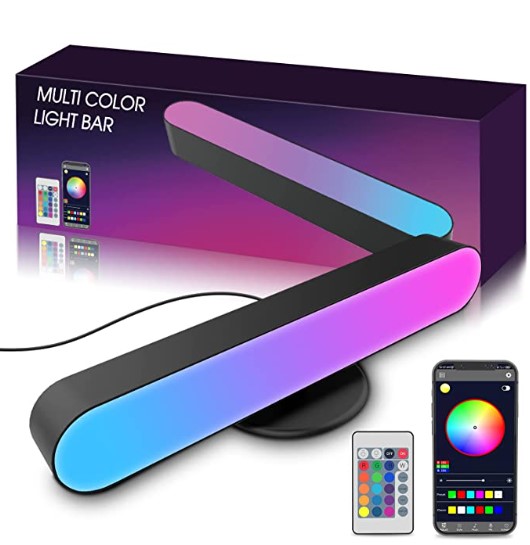 Features:
Plastic
Remote Control
Decorative
Create the perfect ambiance with our LED desk lamp's unique combination of 7 brightness levels. This dimmable lamp comes with a 3000K(3W) led No flick, no buzzing, no heat output, no energy-wasting! USB interface
The small table lamp doesn't take up too much space and fits most places without issues. Used well as a night light, side table lamp, bedside table lamp, and ambient light.
It provides just the right amount of light and diffuses it evenly, bright but not blinding, muted but efficient. Perfect for reading, nursing, or working in the living room, bedroom, office, study room, nursery room, or college dorm.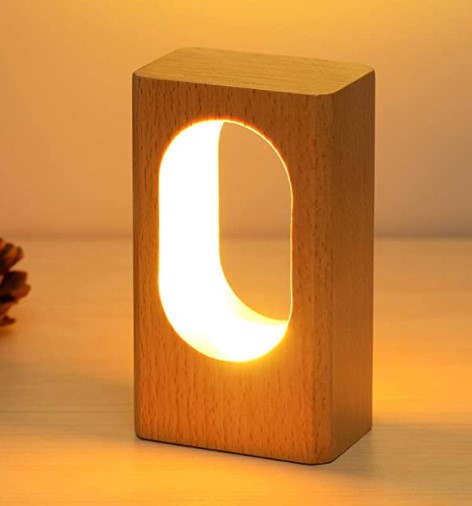 Features:
Govee light bulbs with over a 16million vivid color options & 8 preset scene modes, your indoor scenery will transform before your eyes.
Govee smart LED bulbs compatible with Alexa, Google Home. Feel free to power your smart bulbs on/off, adjust brightness, or change the colors with your voice or Smartphone app.
Incorporating your color light bulbs into your daily routine is now easier than ever. With modes like Sunrise or Sunset, you can set your color lights bulb to brighten until you wake up or gradually dim until you drift off to sleep.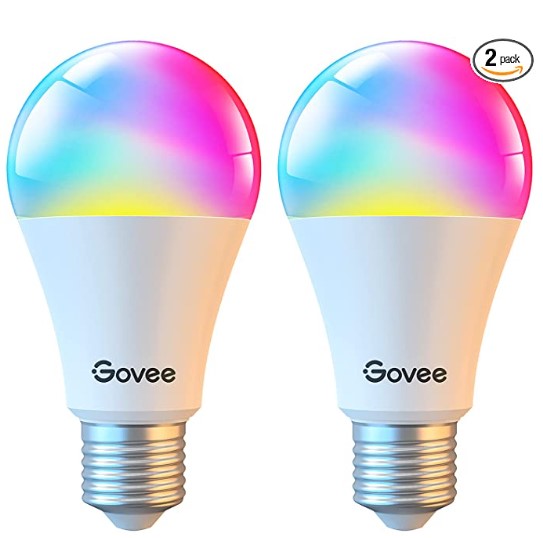 Features:
Work with Alexa & Google Assistant
Dimmable
Color Changing Light Bulbs