Struggling to make your low ceiling basement feel less crowded? The right lighting can have a huge impact on the mood around your home, besides illuminating a specific area, you'll be surprised at how much adding an extra lamp can alter the mood of a room, and that includes your basement. As a result, today we'll be telling you about several basement lighting ideas for low ceilings.
Your basement is probably the last place you would think about adding proper light, but now that you have the time why not make this space everything that it could be! That's right, if you are bored of spending time at home at the same spot, your basement could become why not, even your favorite new spot to spend some time alone, exercising, working, meditating, or just whatever.
Adding some light, no matter how simple can really provide a different sense to this often forgotten space in your home. If you have no idea where to start, doing a little research is always a good idea. So before making any investments, you'll have to consider different factors. Though it may sound like a lot of work at first, you could end up with surprising results. Continue reading and find ten basement lighting ideas you will love.
Basement Lighting Ideas Low Ceiling FAQs
What kind of lighting is best for basements with low ceilings?
The best basement lighting that FBP recommends is LED Recessed Lighting. LED basement lighting will provide a widespread light source throughout the basement.
Recessed lights have a low profile, making them the ideal choice for low ceilings, such as basements or attics, where a protruding light fixture might be unsuitable low. Recessed lights are also ideal for areas where waterproof fixtures are needed.
How far apart should 6-inch recessed lights be in a basement?
To determine how far apart to space your recessed lights, divide the height of the ceiling by two. If a room has an 8-foot ceiling, you should space your recessed lights approximately 4 feet apart.
How can you make a low ceiling basement look bigger?
Recessed lighting is a great start! Switching from outdated incandescent lighting to recessed lighting can make a huge visual impact on your space. Not only do recessed lights sit inside the ceiling, but the housing they use is also smaller and less noticeable than other forms of ceiling light.
Skip the hanging ceiling lights, such as pendant lighting. These will draw attention to the height of your space. Anything hanging from the ceiling will take away precious inches from the height of your space.
Keep your paint colors light and bright. Lighter paint colors will help make the overall space feel more open and bright, while at the same time helping draw attention away from a low ceiling.
How many lumens do I need for basement lighting?
Not only is every basement different, but each type of bulb (LED, CFL, and halogen) offers a different lumens-to-watts ratio, so there is no hard-and-fast rule as to how many lumens you need. As basements tend to be pretty dark, look for a fixture or bulb with enough lumens to produce an equivalent of 75 watts or more.
How to layout recessed lighting?
Make a blueprint: Use a blueprint of the room to pencil in exactly where you want the recessed lights to go. Before you start, take measurements of any furniture in the room and create paper shapes that are correctly scaled for the blueprint. This way, you will be able to see where the light will fall.
Decide if you want a focal point: If you know of a particular spot in the room that needs a recessed light directly above it, that should be your starting point. If you prefer to simply space the recessed lighting evenly around the room without any particular focal point, place your first light in the center of the room and go from there.
Follow the ceiling height: Depending on the brightness or darkness in the basement, the type, and wattage of light being used, and the purpose of the recessed lights, you may want to space the lights either closer together or further apart. To compensate for these issues, a smart strategy is to "overlight" the room with dimmable lights and then control the brightness with dimmers.
Avoid shadows in the corners: Make sure to place recessed lights approximately three feet away from the wall. You must be careful to avoid creating shadows in any corner, as this will have the visual effect of lowering the ceiling. As long as the lights reflect on the wall at the appropriate distance, they will make the room seem brighter and larger.
Basement Lighting Ideas Low Ceiling
The easiest way to add more light to any area is to use string lighting. String lights bedroom with 70 led bulbs gives out warm white light, creating a warm ambiance.
Made of plastic, the outdoor string lights are shatterproof and won't be overheated. 29V output voltage. No worry about the safety.
All of these can keep them working perfectly on rainy days. Contributed to the advanced technology, our hanging lights can save more energy compared with other similar products.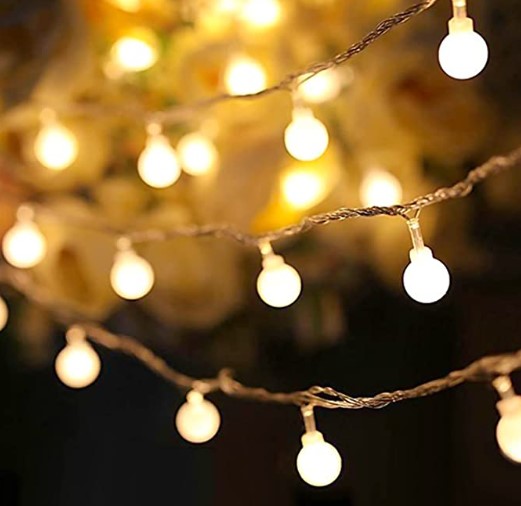 Features:
Outdoor, Indoor
Corded Electric
LED
Warm White
These light fixtures will not only last longer; they are sturdier, use less power, and don't hang as low as incandescent bulbs.
Unmatched High Quality safe and reliable product from the leaders in LED lights from Lightahead is known for its High-Quality Branded.
Easy to install in any light socket or lamp Multi-Color Lights Change Automatically. Has a slight whirring sound of the motor.Ideal for home parties, discos, bars, clubs, stages, and even children's rooms.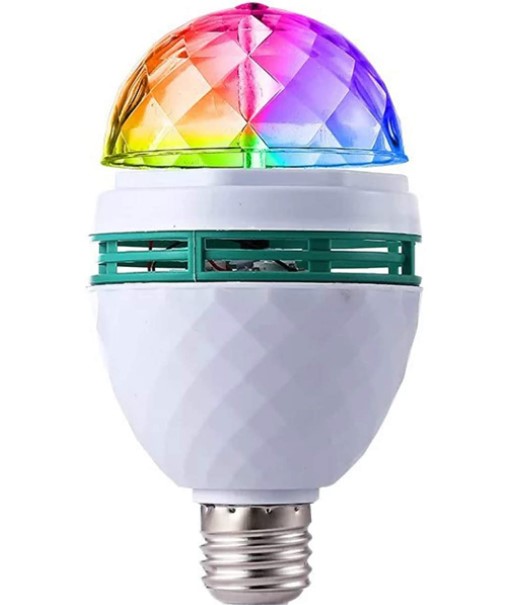 Features:
LED Shop Lights provide a lot of illumination. Long-lasting and energy-efficient, LEDs do not emit as much heat as incandescent lights, which is ideal for a low ceiling.
Easily daisy chain the LED shop light to create an extendable design. Seamlessly connect up to 4 LED shop lights together with connectors for energy savings in your home, office, or workspace.
Directly mount this plug-and-play light to the ceiling or suspend it from the included hanging chains for bright light in garages, basements, warehouses, and storage areas.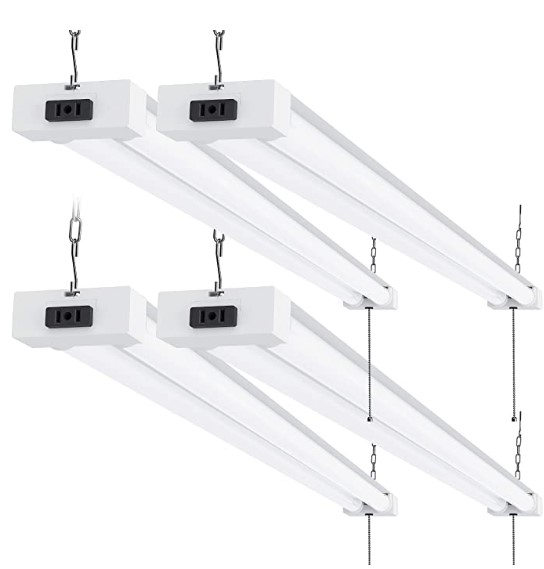 Features:
Linkable
Easy to Install
Durable
This canless LED recessed light is IC rated, which is permitted to be in contact with insulations in ceilings, meaning the junction box is thermally protected. It only requires as small as 2 inches of ceiling spaces and fits various ceilings and joists.
The 6-inch slim lights use the new generation of LED chips with higher lumens and lower power. 1050LM consumes 12 Watts, which equals to 110W incandescent lamp, saving you up to 88% in energy costs. Frosted LED lens for anti-glare and scratch-resistant.
The low-profile recessed lighting is suitable for retrofit and new decoration.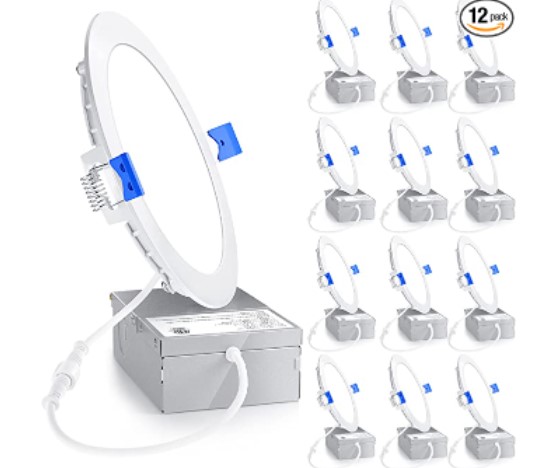 Features:
Dimmable
LED
Easy to Install
If you want to increase the amount of natural light in your basement, you can use tubular skylights. A tunnel connection system that reduces tunnel installation time in half and highly reflective tunnels that deliver the highest quality daylight into the space below.
Pivoting tunnel system Pitch flashing for straighter tunnel runs and even light output throughout the day Rigid tunnel is highly reflective and provides brighter, whiter light output in any application.
Ideal for installations that require longer tunnel lengths.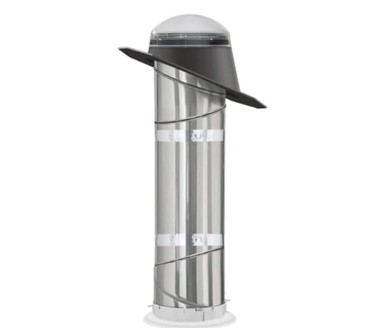 Features:
Flexi Loc System
Rigid Tunnel
Pitched Flashing
If you decide you don't want lights in your basement ceiling because it is so low, a valid option is to install crown molding with LED strip lights.
The crown molding from Orac Decor can be used for indirect lighting applications in a variety of different environments.
Can be used in both indoor and outdoor environments and is impervious to moisture. Orac Decor's crown moldings are extremely versatile, lightweight, and feature large profiles without buildup.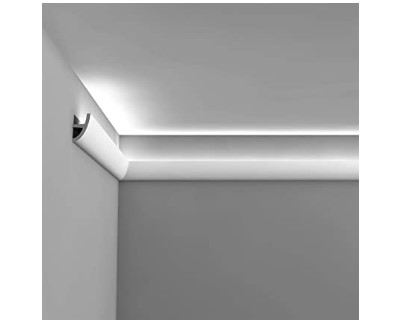 Features:
Versatile
Lightweight
Decor
The led ceiling lights offer you the option of choosing your color temperature directly on the fixture. With the flick of a switch, you can choose between 3 color temperatures.
The edge-lit LEDs in the round flat panel light are integrated, so no bulbs are needed. 24W, 2400 Lumens is perfect for bedroom, kitchen, closet, bathroom, living room, garage, basement, etc.
The flush mount light fixture's high-quality driver allows our light to dim without any unwanted flickering, flashing, or humming noise.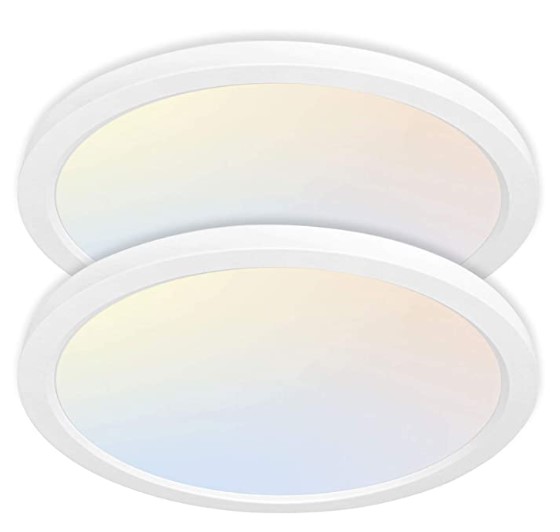 Features:
LED flat panel Ceiling light offers you the option of choosing your color temperature directly on the fixture, you can preset your preferred light color temperature: soft white, bright white, or daylight.
The skylight flat LED panel light with edge-lit LEDs is integrated so there are no bulbs to replace. It's perfect for any home light: bedroom, kitchen, closet, bathroom, living room, garage, basement.
This 1×4 flat panel light with a sleek low profile design (less than 1 in.) is perfect for any low ceiling area, combined with a slide and lock simple mounting bracket enables easy installation and can be mounted as a ceiling flush mount or wall sconce.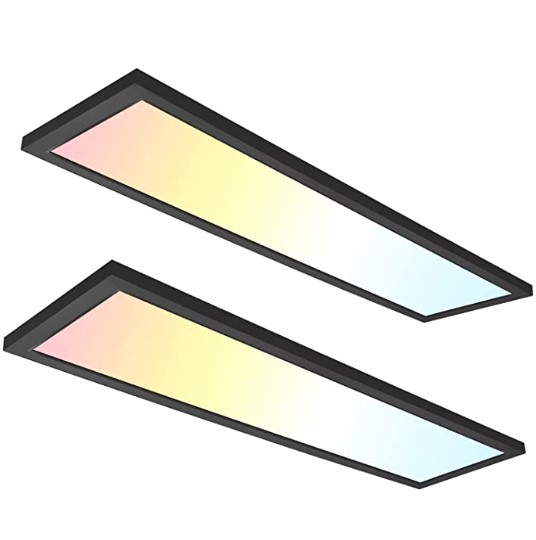 Features:
LED
Easy to Install
Flush Mount
The dimmable square led downlight with selectable color temperature provides added function and beauty to any residential or commercial area with a flush mount and retrofit install; It has a frosted acrylic lens.
The ultra-slim low-profile bright edge-lit led flat panels offer even light distribution; the mercury-free sleek multipurpose light fixture can be ceiling flush-mounted, used as a wall sconce, or in 5-inch or 6-inch recessed lighting cans.
The square flat panel light tunable white led downlight fixture with selectable color temperature gives you the option for relaxing soft white, cool white, or energizing daylight.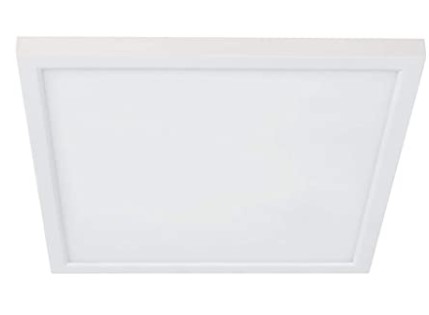 Features:
Dimmable
Recessed
Plastic
SYLVANIA Ultra Ceiling LED is an ideal replacement for an existing 60W incandescent lamp that provides energy and cost savings.
This long-lasting LED has an average rated life of 50,000 hours which reduces the need for future replacement and related costs.
This LED Light Bulb has a color temperature of 2700K, and soft white light.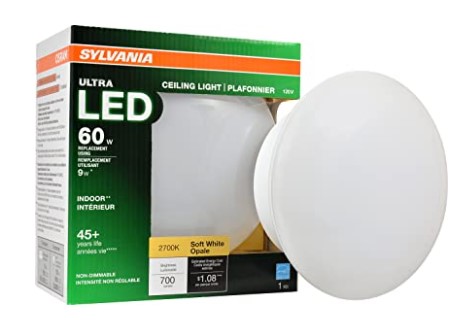 Features: