Is your garage also your gym, workshop, and also storage area? Nowadays, garages are much more than the space where you park your car. As a result, a need to add proper lighting is born. If you are currently in the search to turn your garage around and turn it into something more, don't let dark corners keep you from your goals. As a result, below you'll find different garage lighting ideas.
You'll be surprised at how much adding an extra lamp can alter the mood of a room, and that includes your garage. With the right lighting, you can make the most out of your garage, just picture a bright, efficient, easily accessible, and safe place that is actually often forgotten.
Adding some light, no matter how simple can really give you a different feel to a place. If you have no idea where to start, doing a little research is always a safe route. And before making any purchases, you'll have to consider a number of factors that will help you determine the right choice for your needs. If it sounds a little overwhelming, do not panic, we are here to help. Continue reading and find the ten best garage lighting ideas that are genius and useful.
Best Garage Lighting Ideas FAQs
Why do you need the best garage lighting ideas?
Adequate lighting for your garage workshop makes tasks easier and helps protect you from injuries.
LED lighting is a versatile, energy-efficient choice that comes in tubes, bulbs, strips, and wraparound lights.
Think about where you need task lighting and where you need overhead illumination. Consider different fixture styles for different areas, and choose a bulb color temperature that suits your needs.
What kind of lighting should I use in my garage?
For ambient or accent lighting, aim for 50 to 75 lumens per square foot. Fluorescent lights are the traditional choice for garage spaces, but if you live in a cold climate, choose a fluorescent fixture based on the lowest temperature in your garage. Many fluorescent lights don't work below 50 degrees.
Are LED lights brighter than fluorescent lights?
The LED tube lights are noticeably brighter than fluorescent tubes and you don't get exposed to any kind of harmful rays such as UV/IV rays as well that can damage your eyes and can result in skin allergies as well.
Are LED garage lights worth it?
Definitely yes. The costs per bulb have decreased, installation is often a no-brainer, and the energy efficiency does your wallet, and the planet, a ton of good.
What color light is best for a garage?
Experts say between 5000K and 6000K color temperatures for detailing your car. If you're a professional detailer, then go with the 6000K lights. If you're just a weekend warrior, go with the 5000K lights overhead and some smaller, 6000K lights for detail work.
How many lights should I put in my garage?
Having between 1 to 3 lights should be more than enough for the average residential garage. By using energy-efficient, high-lumen bulbs or fixtures, you'll get the most for your money without sacrificing the visual appearance and clarity of everything.
How many lumens do I need for a 2-car garage?
4,000-8,000 lumens is a great range for a 2 car garage.
What to consider when choosing garage lighting?
Type: There are options that mount to the ceiling or screw into an existing socket, which are designed to illuminate the entire space. Then you'll find models better suited for smaller areas. Additionally, some garage lighting (like under-cabinet bars) should be used to supplement larger fixtures, as they don't typically offer enough illumination on their own.
Brightness: Garages receive little or no natural light, so when upgrading a lighting setup, choose fixtures that put out a lot of bright light. The lighting industry measures brightness by lumens. The more lumens, the brighter the lighting will be.
Color Temperature: Color temperature refers to the color the light produces and is measured in kelvins (K). Temperatures range between 3500K and 6000K, with the lower end being warmer and more yellow and the higher-end cooler and bluer.
Energy Efficient: Regardless of the lighting system chosen for a garage, a modern fixture will use far less energy than older incandescent bulbs. Fluorescent bulbs can cut energy consumption by about 70 percent over an incandescent bulb producing the same amount of light. LED bulbs are even better, cutting as much as 90 percent of the energy consumption of a comparable incandescent bulb.
Installation and Connectivity: Installation and connectivity may play a large role in deciding on the best garage lighting fixtures. The easiest way to upgrade garage lighting is with screw-in bulb replacements. There are also plug-in systems that work through standard outlets: Simply plug them in and flip the switch.
Longevity: An LED bulb can last 25 to 30 times longer than an incandescent bulb, all the while reducing the amount of energy consumed. A fluorescent bulb can last as long as 9,000 hours compared to an incandescent bulb's 1,000 hours.
Climate: For unheated garages in areas that experience bitterly cold winters, LED bulbs are the most suitable choice. In fact, LEDs become more efficient in colder temperatures.
Additional Features: While upgrading an overhead lighting system, it's wise to upgrade the workstation as well. Consider hanging a chain from the ceiling to lower a fixture or attaching an LED light below a cabinet, essentially, establishing direct task lighting.
What are the types of garage lights?
Shop lights: Shop lights have a tube-like shape and can be hung from a chain or rope from the ceiling, or they can be mounted directly to the ceiling.
High bay lights: As the name suggests, this type of lighting is meant for garages with high ceilings, usually over 15 feet in height. They can be suspended from the ceiling by a hook, pendant, or chain or mounted directly to the ceiling.
Recessed lights: Recessed lights have a circular shape and fit directly into holes cut into the ceiling. These are hardwired to your electrical system and can be turned on and off using a wall switch.
Wraparound lights: Wraparound lights are in the shape of a semicircle. The flat side sits flush against the ceiling, and the circular side hangs from the ceiling, pointing the light in a variety of directions.
Flush-mount lights: They have a circular shape and are usually more decorative, making them great for other common spaces around your home, such as hallways, patios, or offices.
Best Garage Lighting Ideas
Amico's canless LED recessed light is IC rated, which is permitted to be in contact with insulations in ceilings, meaning the junction box is thermally protected.
It only requires as small as 2 inches of ceiling spaces and fits various ceilings and joists. It won't cause a fire in the roof or overhead joist space.
The 6inch slim downlights use the world's leading LED chips with higher lumens and lower power. 1050LM consumes 12 Watts, which equals a 110W halogen lamp, saving you up to 90% in energy costs.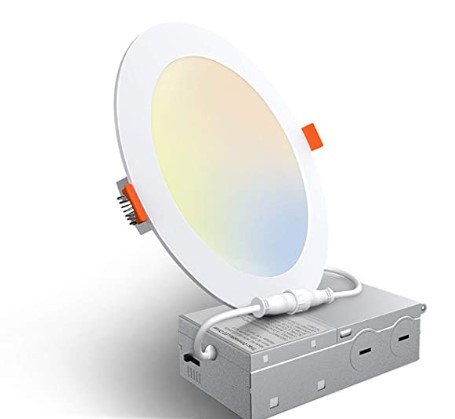 Features:
Corded-Electric
Recessed
Indoor
This 150W high-quality and powerful high bay light gives off industry-leading illumination! Its commercial-grade compatibility and 21,000 lumens easily make this light the best choice when it comes to wide and clear illumination. With up to 140 lumens per watt, this is easily one of the highest-performing lights in the industry.
This amazing UL-certified lamp features IP65 certified water-resistant and dustproof design. Its commercial-grade, durable properties make it the toughest and most versatile light on the market.
The lightweight, low profile and circular/UFO-like design make this high bay light the most unique and beautiful product on the market.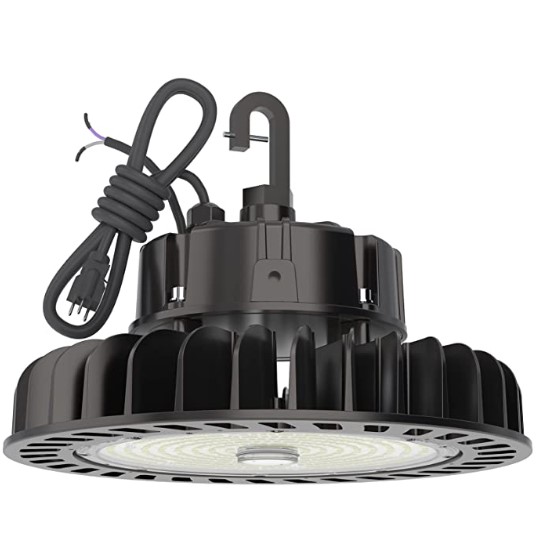 Features:
Dimmable
Pendant
Aluminum
High-quality fire-resistance plastic shells prevent any potential risk of electric shock, electric leakage, or even potential disasters caused by an electrical short circuit. The power supply design of short circuit protection is also involved.
Excellent performance of dustproof, easy to clean. Under normal usage of 8 hours per day, lifespan could endure more than 3 years.
No need for extra bulbs. The output brightness of a 20W Taloya LED ceiling light is equivalent to a traditional 200W Five-Bulb (40W ea.)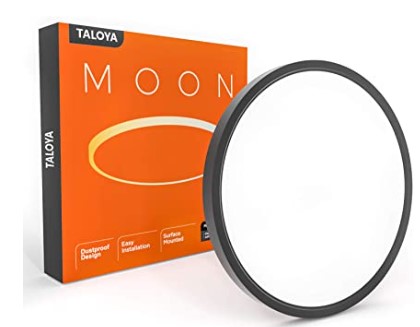 Features:
Close to Ceiling
Indoor
Plastic
4FT led shop lights to feature 4400 lumens brightness at 5000K Daylight White by using only 42W. That is a staggering LED Efficiency of 105 lm/w! Excellent replacement of conventional fluorescent fixture. Energy Savings of up to 75%.
ETL certified for better quality, safety, and reliability. This long-lasting LED shop light provides up to 50,000 hours of light before any maintenance is required.
4ft linkable led shop light use plug connection to connect up to 6 pcs together in your garages, workshops, workbench areas, storage areas, warehouses, basements, equipment rooms, etc.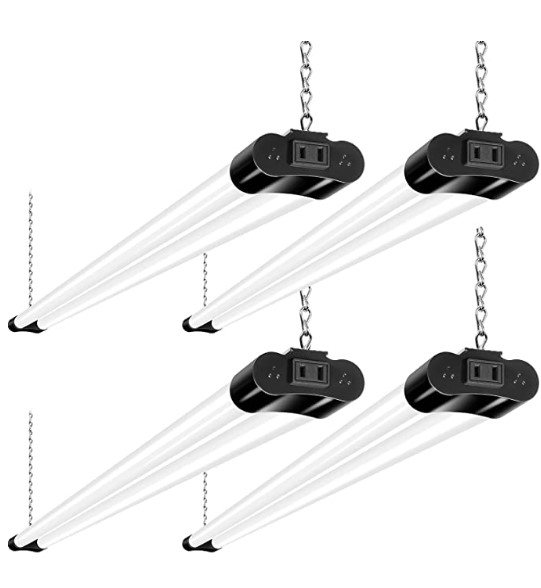 Features:
Aluminum, Polycarbonate
Pendant
Corded-Electric
Bright light and uses less energy, which cut your electric bill by over 70%. This 4ft led wraparound light provides over 4400lm equivalent to 120W traditional lights.
Acrylic prismatic lens wraps around the fixture to maximize light output and distribution, and unique design styles will make your space looks more elegant.
Simple to replace your fluorescent light fixture or make a new installation. You also can assemble the lights in line together up to 20 with Knock out the hole on end.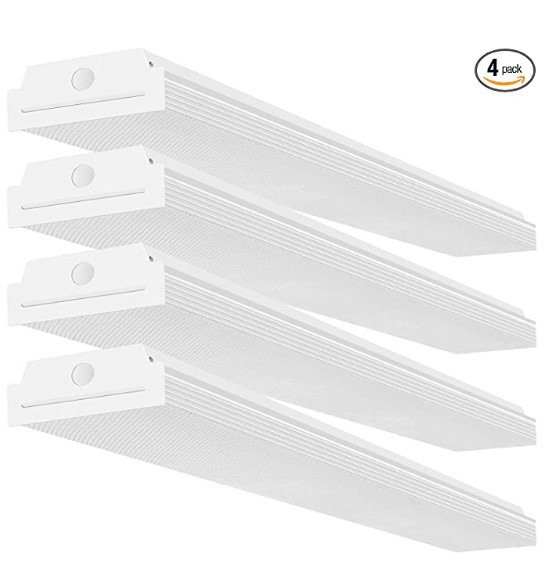 Features:
Wide Application
Corded-Electric
Durable Galvanized sheet
Directly mount to the ceiling or hang from the ceiling with the included chains for bright light in garages, basements, warehouses, and storage areas.
Turns on instantaneously, no more waiting. Easily daisy chain the industrial shop light to create an extendable design.
Seamlessly connect up to 4 LED shop lights together with connectors for energy savings in your home, office, or workspace.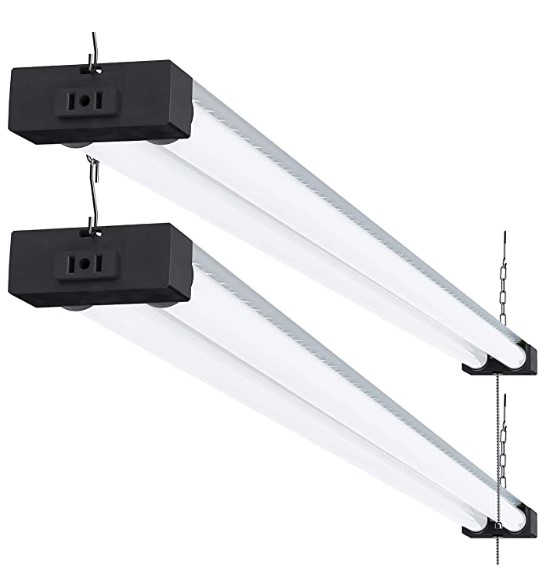 Features:
Easy to Install
Linkable
Flush Mount
With a wide-angle deformable garage lights wing design, the light can be adjusted in 90-degree multi-position. Easy to open the wings and they stay in place well.
The ability to position the direction of the light make a perfect garage lighting distribution curve as you like. The garage light fixture is super easy to install and fits fine in any open E26 socket.
All you need is a ladder and your hand, just screw it in and turn it on and enjoy the brightness. Easy to aim the lights to suit your needs and the space. We believe that you don't want to install hardwired lights anymore.
Features:
Close to Ceiling
Indoor
Aviation Aluminum
Barina LED Shop Light is a great option for lighting up the garage, basement, work areas, rooms, etc. It could be plug & play or hardwired to a wall switch.
Moreover, it could link up to 8 lights in a series, saving you installation cost and time. Barrina-LED lights provide you with much brighter, cheaper, and healthier lighting than conventional fluorescent light and can easily replace any existing fixtures.
Barrina LED shop light brings your application the best lighting available with an incredible minimum of 110lm/watt (Each light has 2200lm output). Illuminate the dark corners of your space.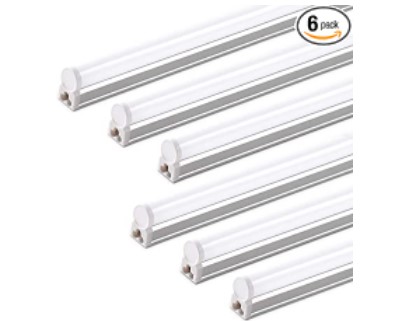 Features:
Aluminum, Polycarbonate
Ceiling Mount
Corded-Electric
Innovative super slim design at only 2pcs Apple mobile thickness, large light-emitting area, and uniform lighting.
100% Smooth Triac dimming, no flickers and humming, good protection for eyes, compatible with most LED dimmers on the market.
Largely used as kitchen, living room, bedroom, hallway, garage(as a night light), and other interior living spaces.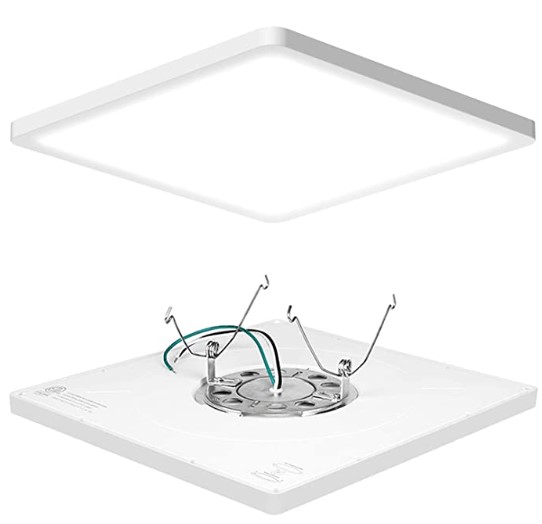 Features:
Indoor
Recessed
Polycarbonate
With the motion sensor mode, the upgraded LED garage lights are sensitive to the smallest motions and turn the light on.
It can even walk through the wall to detect your motion and turn on before you enter, aiming to provide you with a convenient and electricity-saving garage light.
Unlike traditional fluorescent lights, led garage ceiling lights have 3 adjustable LED light panels, you can adjust the motion-activated garage light up and down 90 degrees to get what light directions you want.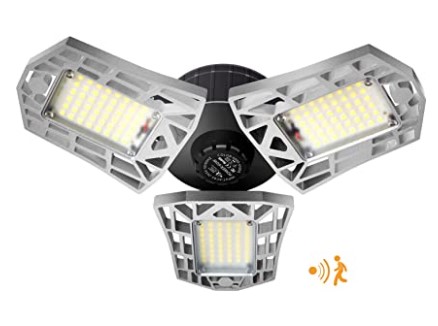 Features:
Close to Ceiling
Aluminum
3 LED Light Panel