Do you often deal with migraine? Those who suffer from this common health condition often get triggered by a number of things such as lack of sleep, stress, and other factors. Unfortunately, light sensitivity is also as real as can be. Bright and flickering things can also greatly affect most migraine sufferers. As a result, today we'll be sharing with you some of the best lighting for migraine sufferers.
According to experts, lighting can have either a positive or negative impact when it comes to migraine. Those with this affection can be triggered due to the brightness, the color temperature, or even the light wavelengths. You have probably experienced how much adding an extra lamp can alter the mood of a room, well, something similar occurs with migraine sufferers who are exposed to the wrong lighting.
If you or someone you know, discovered you belong to this unfortunate group, doing your research on the best lighting for migraine sufferers is a smart move. Before changing the lighting in your room, or your entire house, you may want to look into features like dimmed lights, etc. You'll have to consider a number of factors that will help you determine the right choice for your needs. But before making any investments, find below some of the best lightings for migraine sufferers.
Best Lighting for Migraine Sufferers FAQs
Can light sensitivity cause headaches?
Soft, warm white lights lie in the 2,700 Kelvin range and give off a smooth, yellow-hued light. Because these lights have fewer blue-spectrum elements than bright white and daylight, they are typically the best lighting for migraine sufferers.
What lighting is the best for migraines?
Dimmed down incandescent lighting has always been the best lighting for migraines, but since those bulbs are essentially eliminated, your best choice will be the light from a 2700k LED bulb.
Why lights may cause migraines?
The Brightness of the Light: Bright light creates a response from your eyes that can make migraines more intense. Some people have their worst reactions when exposed to sunlight which is the brightest light you can find.
Flickering or Pulsating Light: The subliminal and sometimes visible pulsating of various light sources such as fluorescent lights can trigger a migraine and even make you feel nauseous. Any light source that flickers or pulsates should be avoided.
Blue Kelvin Color Temperature: Lighting that is more blue-green or higher on the kelvin temperature scale will bring on migraines more so than lights that are more yellow or lower on the temperature scale.
High Contrast Light Sources: These lights are flashing more than flickering. This can be a TV screen, computer monitor, strobe lights, headlights, or any other light source that produces this type of effect.
Are LED lights better for migraines?
Recently, researchers found that LED exposure, specifically based on color, leads to higher rates of headache and migraine symptoms (including photophobia), giving better insight into the origin of light sensitivity within the eye itself.
Can bright LED lights cause migraines?
Red and white LED lighting also trigger migraines. And as noted above, the color in LED bulbs is converted, so the color your eye perceives will not alert you to the prevalence of these more damaging color waves. In addition, LEDs use a flickering technology that triggers eye strain and headaches.
What color lighting is best for migraines?
Greenlight therapy can be used at home to ease symptoms during a migraine attack or as a form of preventative care. Special LED "migraine lamps" emit a narrow band of green light that activates regions of the brain involved in pain processing less than other colors.
Do green LED lights help with migraines?
A majority of participants in the study reported a more than 50% reduction in headache days per month. The green light of a specific wavelength and intensity reduced the frequency and intensity of migraine headaches, along with providing other quality of life benefits.
Do computer screens cause migraines?
There are some computer screens that can tripper a migraine episode or make one much worse. The light coming from your computer screen is always flickering but it is happening so fast that you can barely see it.
What is the best lighting for migraines?
LED Light Bulbs
These bulbs do not flicker at all since they are not made with fluorescent technology. They provide the most even light you can find which means you will also not get varying contrasts. These bulbs now provide the best lighting for migraines.
Halogen Light Bulbs
Halogens are similar to incandescent bulbs in that they provide a more yellow light source with little to no flickering. The problem is these bulbs get extremely hot.
What is the worst lighting for migraines?
Fluorescent CFL Light Bulbs
CFL's or fluorescent bulbs are absolutely not recommended for migraine sufferers. They flicker by nature and when they are not operating properly, you can actually see them flicker. In addition to the flickering, their light tends to be bluer.
Best Lighting for Migraine Sufferers
Wake up and start your day with our white light therapy helping you feel like a million bucks. White light therapy can help improve mood and energy by triggering the release of serotonin.
This white light therapy will help you personalize a sleep routine to help you fall asleep, stay asleep & wake up refreshed. We help get your body clock back on schedule.
The lamp's soothing green light therapy helps you wind down and prepare your mind & body for sleep. After all, you deserve it.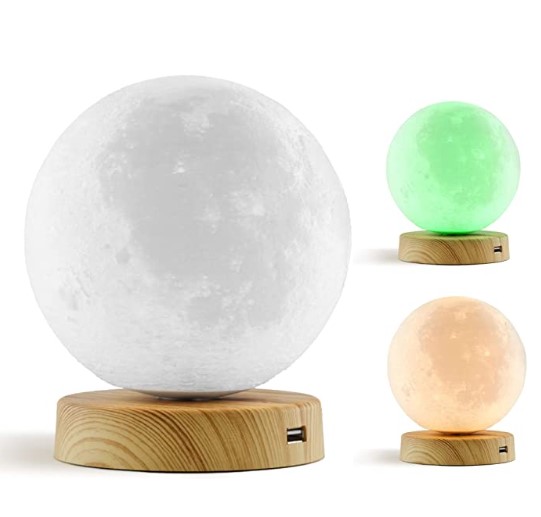 Features:
UV-Free
LED
Adjustable Brightness Control
Can soothe or reduce the severity of headache pain, and other pain from fibromyalgia and neuropathy. The Narrowband green light found in NorbRELIEF's spectrum reduces pain from fibromyalgia and neuropathy.
Migraine sufferers, who traditionally seek darkness, may find that this light allows them to resume normal indoor activities. Inexpensive, patient-controlled, drug-free, and noninvasive.
Use at the lowest intensity required for your activity. If brighter than needed, use a dimmer, lampshade, or more distance. NorbRELIEF is for ambient lighting, not to be looked into directly.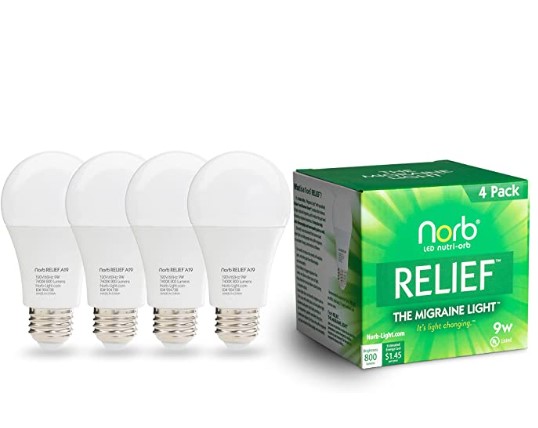 Features:
LED
Non-Drug Support
Instant On
Dimmable
These happy light therapy lamps deliver safe and natural LED light that our bodies need and are perfect for improving insomnia, jet lag, seasonal blues, and so much more.
The lamp's revolutionary, the quick one-touch operation makes it simple to use with 3 levels allowing you to customize the brightness for the best efficacy and comfort
This therapy light provides the recommended 10,000 LUX of brightness to help the winter blues, regulate sleep, improve focus, boost energy and make us feel less sad. The light therapy lamp is designed to mimic the colors of daylight.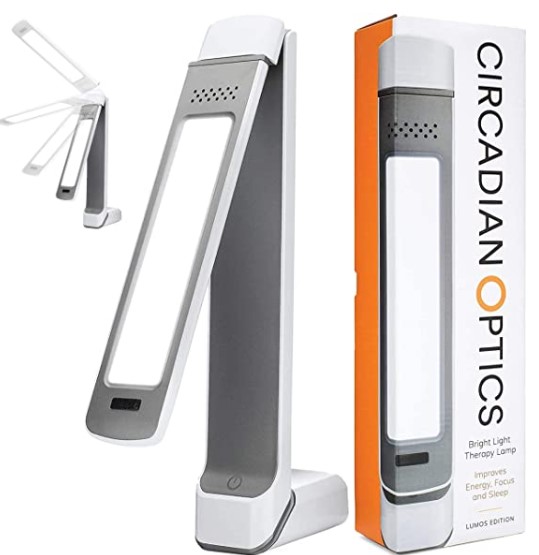 Features:
Stylish
UV-Free
Easy to Use
Effective
The green light at 525 nm has been found to be beneficial in varying skin treatments and can provide pain relief. Greenlight is best for improving skin pigmentation and fine lines.
In terms of pain, recent studies have shown green wavelengths can decrease chronic pain, especially for those suffering from migraines and photophobia.
The Hooga LED light therapy device is ideal for all skin types. The LED lights are UV-free non-heat-producing bulbs that don't have any side effects. This handheld light therapy device allows you to take your skincare and therapy with you wherever you go.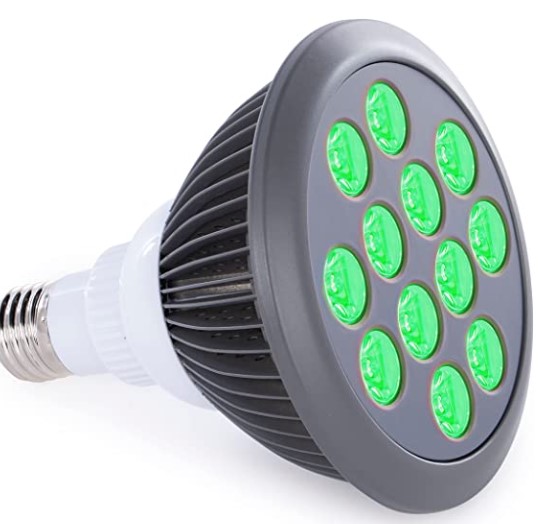 Features:
Migraine and Pain Relief
High Irradiance
Safe for All Skin Types
The specific, narrow band of green light emitted from the Blancka light therapy lamp works specifically to ease photophobia and provide migraine relief so you can get back to doing what you love without the pain or tension associated with a migraine.
This happy mood light provides healthy natural sunlight that is beneficial to your eyes. At low brightness, the light therapy Lamp Full Spectrum can be used as a high-quality eye-protecting desk reading lamp.
Even if your eyes are exposed to light for a long time, you will not feel fatigued and can protect your eyesight.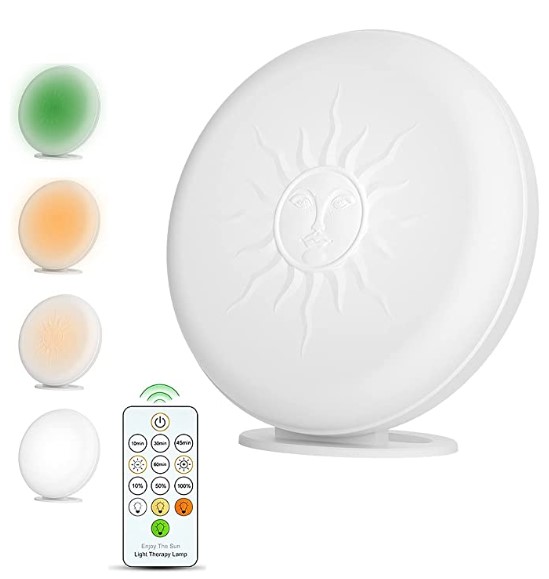 Features:
Migraine & Tension Relief
LED
Eye-Care
The specific, narrow band of green light emitted from the Hooga green light therapy bulb works specifically to ease photophobia and provide migraine relief so you can get back to doing what you love without the pain or tension associated with a migraine.
The green light bulbs emit a specific and well studied green wavelength of light at 520nm which creates smaller electrical signals in the brain than regular light. Other green bulbs or lights end up using a film or a wideband which may include wavelengths of light (like blue and yellow) which end up making a migraine worse.
Go into a dark room, eliminate all other sources of light and turn the light bulb on. Spend at least 30 minutes in the green light, but longer is better.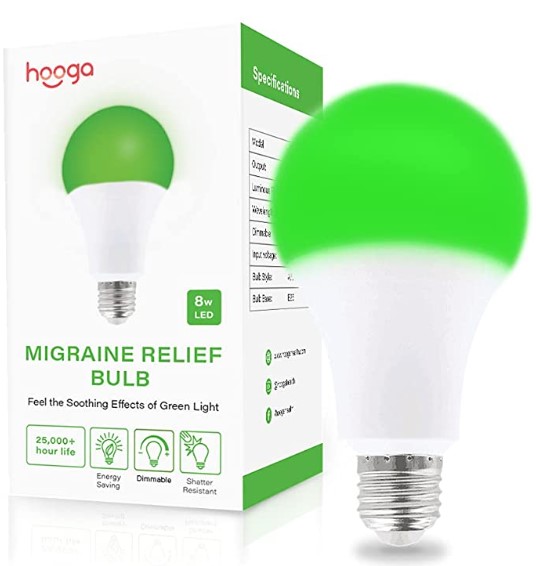 Features:
LED
Dimmable
Shatter Resistant
Allay's unique soothing light eases photophobia and tension to help you read, write, cook, work, relax, and be with others – even during a migraine.
Allay's patented band of wavelengths generates smaller electrical signals in the brain than regular light. Even other green bulbs and screens use a much wider spectrum that includes blue & yellow wavelengths that can irritate the eyes and brain.
Allay's natural glow calms the brain to ease stress, reduce anxiety, and help you sleep better.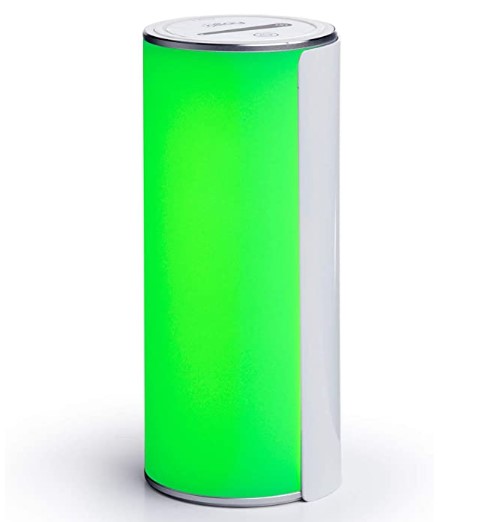 Features:
Portable
Touch Controls
LED
52 full-spectrum beads with soft light, no flicker, no shadow, which avoids eye fatigue caused by flickering light and harsh glare effectively, desk lamp is ideal for reading, studying for a long time.
This LED desk lamp has 10 brightness levels and 5 lighting modes to choose from, providing ideal light levels for working, studying, reading, and relaxing.
Also, a touch sensor switch is applied to this led table lamp. Memory function means you only need to set the brightness/color mode once you use this desk lamp, and the desk light will automatically return to the setting when turned on next time.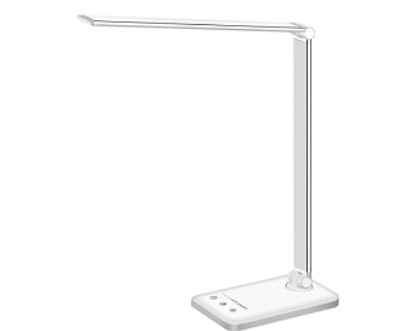 Features:
Aluminum, Plastic, Iron
Minimalist
Adjustable
This stylish and elegant glass gourd table lamp features a gold mercury glass body with brushed nickel metal accents. This lamp can be dimmable (low-medium-high) if using a dimmable bulb.
The versatile design makes it the perfect addition to your living room, family room, bedroom, dorm room, home office, craft room, kitchen, or any open concept living space.
Great for apartment living or DIY home remodeling projects and suits a variety of styles including modern, transitional, contemporary, industrial, global, farmhouse, rustic and traditional decor.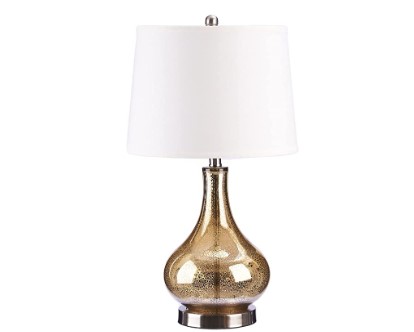 Features:
Metal Base
Glass
Smart Home Compatible
The Lastar desk lamp gives off a soft, flicker-free glow, with twenty adjustable light settings that help this lamp better align with your visual acuity, so your eyes don't have to fight to adjust to unbalanced light wavelengths for reading, working, and studying.
The desk lamp remembers the most recently selected light color and brightness settings and will employ those settings when you turn the lamp on again, instead of reverting to defaults.
Special night light settings to aid sleep, allowing you to fall asleep under gentle light, automatically shuts off after setting the timer function for one hour.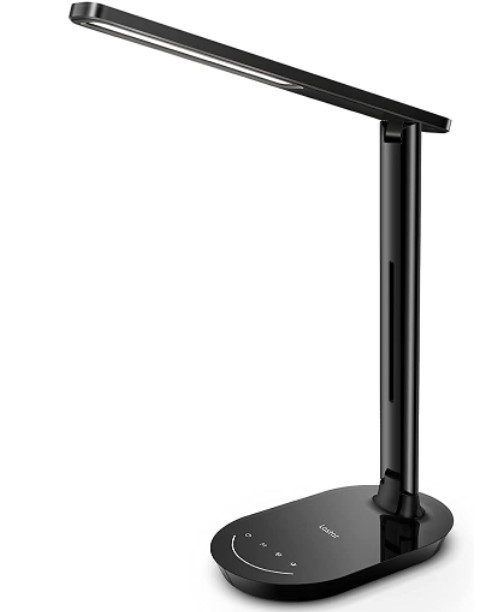 Features:
Modern
Gentle on the Eyes
Touch Control