Bored with the way your kitchen looks? One way to really boost your home's decor is by adding lighting which believe it or not can make a huge difference. If you want to make a real difference you can install a light above your cabinets for a cool and chic effect. If you are interested, today we'll be sharing with you different above cabinet lighting ideas for your home.
The right lighting can contribute to your home's aesthetic becoming the perfect decor complement. Finding the right lights needs to be about function and looks; always strive for a combination of good performance and style. However, finding the right lights for your specific needs depends largely on personal preference and that's right, budget.
Keep in mind before making any investments, lighting can provide a great way for you to express your personal finesse as you accentuate different rooms in your home. Before choosing the lights for your cabinets, you should get inspiration from different cabinet lighting ideas, especially if this is your first rodeo with lighting. With many options available it may seem a bit daunting, but fret not and check out below some of the best cabinet lighting ideas.
Above Cabinet Lighting Ideas FAQs
Why is lighting important in the kitchen?
Lighting is incredibly important in a kitchen, not only lighting for visibility for preparing meals, but also for all the other ways we now use our kitchens. By utilizing over cabinet lighting you can add visual interest to your kitchen, create ambient lighting in the evenings, and simultaneously make negotiating your cabinetry a much more pleasant experience.
Where should lights be placed on cabinets?
If you want to install under cabinet lighting as task lighting, you should place the strip lights closer to the middle front edge of the cabinets, so the countertop will be exposed to as much light as possible. For ambient or accent lighting, you may want to place them closer to the back edge.
Why choose over or above cabinet lighting?
Adding high-quality indirect light can bring almost any room to life, something astute designers and homeowners everywhere are discovering. Installing above cabinet LED strip lighting is a popular way to achieve this; it's a simple, do-it-yourself project that will dramatically improve the visual appeal of any space.
Over cabinet lighting is a great option for adding light to your kitchen cabinets to enhance the design of the kitchen itself, as well as adding useful light for task-work and visibility inside the cupboards, and creating beautiful atmospheric light with or without the pairing of ceiling lights.
What do you need for above cabinet lighting?
White Output LED Strip Light
Electronic Dimmable Power supply
Solderless Connectors
Compatible Wall Dimmer
Above Cabinet Lighting Ideas
The ColorBright White Series LED light strips are created with high-intensity LED chips mounted on a flexible printed circuit board (FPCB) with a strong 3M adhesive backing.
Sometimes referred to as "LED tape lights," the flexible design of LED strips allows for the addition of beautiful and pure white light in almost any space you can imagine.
The ColorBright Whites LED strips are a great way to provide professional-grade, bright and comfortable accent lighting that will last for many years.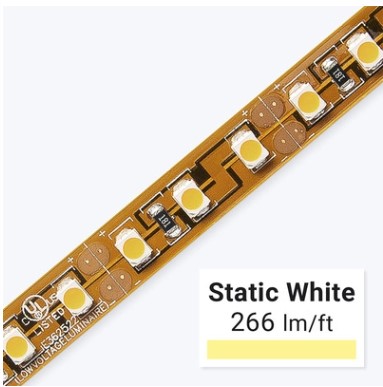 Features:
Fully Dimmable
120° Beam Angle
Thermally Resistant
The weatherproof ColorBright™ Dynamic Tunable White Series LED strip light can be adjusted to produce very specific shades of white.
This strip light is not only fully dimmable but allows you to control the color temperature (shade of white) with the touch of a remote.
Manufactured with LEDs of alternating color on the circuit board so that half of the LEDs are a lower color temperature and half are a higher color temperature.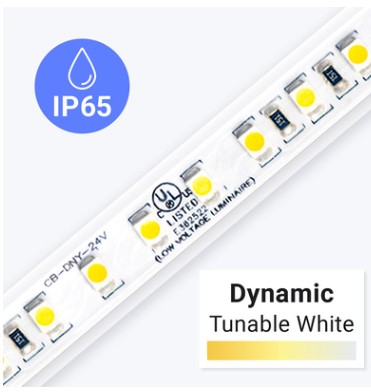 Features:
Fully Dimmable
Wide Application
Low Voltage Input
The Outdoor UltraBright™ Architectural Series is built to last and to make lasting impressions. Born to meet the high standard of innovative architectural design and complex lighting projects.
Pair this strip with a dimmer to take full advantage of its versatile applications, from bright task lighting to lower, comfortable accents.
Developed with our network of architects and designed to meet their specific needs, it is a series of exceptional LED lights, created by balance functionality, aesthetics, and versatility.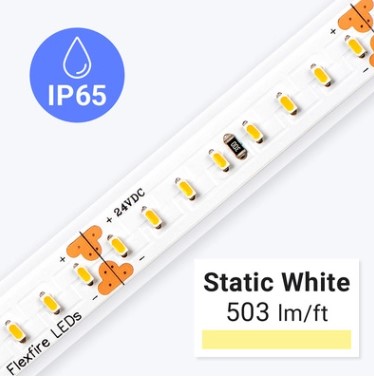 Features:
Silicone Sleeve IP65 Rated
15-year Warranty
Fully Dimmable
This new COB LED over cabinet light features an efficient and condensed lighting module. Running at only 5W, this fitting offers an economical and practical lighting solution.
The fitting emits the equivalent light output to that of a 50W halogen. Suitable for illuminating cabinets, display units, and above wardrobes.
LED light source, no UV rays, no flicker, and no noise. Low power consumption.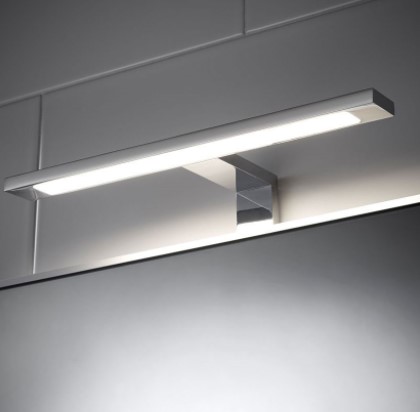 Features:
Integrated COB LED
Fitting runs at 5 watts
1m cable attached
A round-over cabinet/mirror light that has a chrome finish. This fixture gives a white light but the color temperature is adjustable via controller – from soft warm white light up to daylight white to suit your mood or decor.
With an IP44 rating, this is perfect for use in a bathroom but could be used in many other locations such as over kitchen wall cabinets or display units.
You can control multiple fittings on one remote if required, allowing you to control your lighting with ease.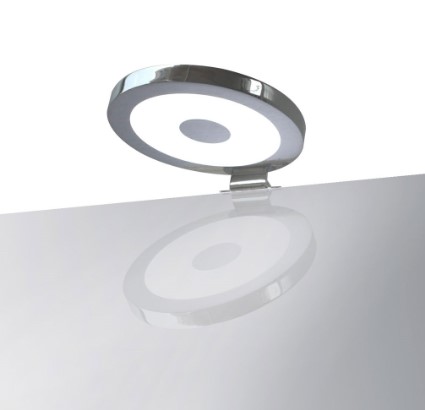 Features:
Dimmable
Long Life LED Light Source
This unit is incredibly functional, with the use of an integrated PIR sensor the LED lights are able to stay lit when movement is detected within a 4-meter range & 180-degree radius. When no movement is detected after 20 seconds, the light will switch itself off.
Using a magnetic fixing method, the unit can be easily moved, whether it be for charging or relocation using the supplied brackets.
The unit makes use of a lithium battery and is charged via USB – 150 minutes of operating time.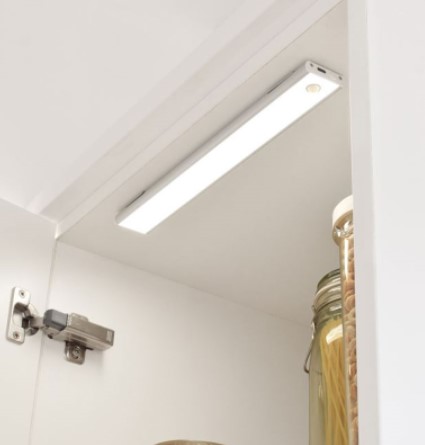 Features:
A USB-C Charging Cable
Easily Moved
LED
This flexible strip allows it to be installed everywhere, 32.8 ft long and 600 LEDs are easy to get a bright white illumination. Super bright and thin led strip create a bright warm atmosphere.
Can be controlled by a remote or control box, 360-degree RF remote control Range is up to 60ft, strong control signal can go through the obstacles (walls, doors, cabinets), It is perfect for distance control. Such as wall, room, above the cabinet, shelf, cupboard.
Warm white strip light, get a super bright welcome illumination with premium 600LEDs.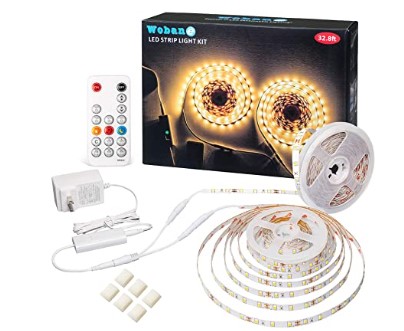 Features:
LED
Indoor
Corded Electric
6 PCS pre-cut strips, a total of 9.8ft, many kinds of connection options, Great way to upgrade your cabinets, closet, desk, TV back, bookshelf, bed, wardrobe, cupboard, counter, display case, etc.
Super bright LED cabinet lights to deliver a total of 1500 lumen, Came with RF dimmer to adjust the brightness.
High-quality adapter and strip light The LED tape light working voltage is DC12V, extremely Low voltage and heat.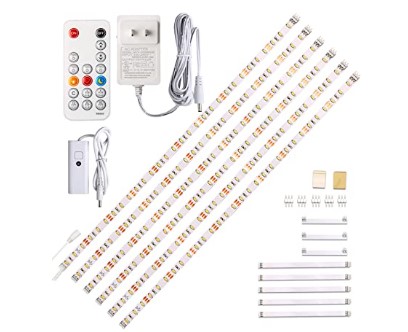 Features:
LED Strip Light Bars
Remote Control
AC/DC
ETL listed adapter and strip. The LED tape light working voltage is DC12V, extremely Low voltage and heat.
All installation accessories are included. No tools are required. Install light bars by yourself in minutes, just Clean – stick on -connect.
Backed with strong adhesive tape, screw-free to protect your furniture. Come with 4pcs 20inch light bars, adapter, and connectors. It is suitable for under lighting, display lighting, background lighting, and any other occasion.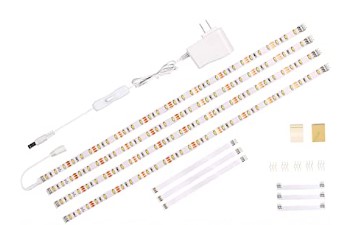 Features:
AC to DC12V adaptor
Kitchen, Bedroom
Plastic, Copper
RGBCW design, RGB colored LED and separate White LED. Both for mood and daily lighting purposes. RGB for your visual mood enjoyment.
The white color is not mixed color with red, green, and blue. It's made up of high rendering index bright white LEDs, 2700k to 6500k temperature adjustable, and 10% to 100% brightness adjustable.
Adjust brightness, change colors, or power your lights on/off with the Smartlife app WIFI Cloud Remote Control.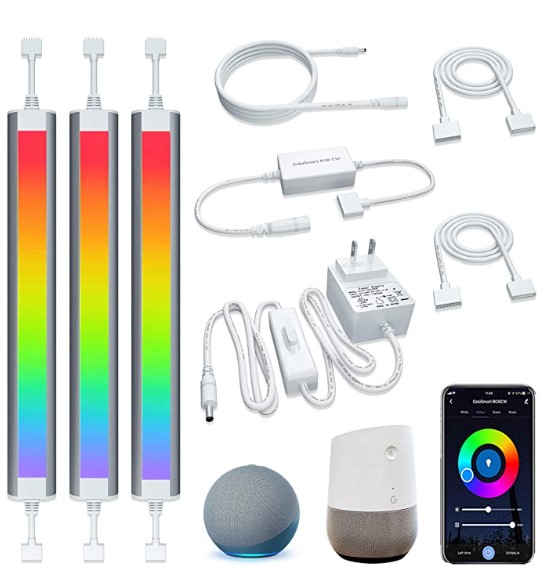 Features:
LED
Indoor
Corded Electric